Aston Martin Vanquish Zagato Speedster unleashed
The Aston Martin Vanquish Zagato Speedster is the latest model in new limited-edition family, with radical Shooting Brake to follow
Aston Martin has unveiled the latest in its line of Zagato specials, the Vanquish Zagato Speedster, and confirmed that the new model will form part of a family of limited-edition vehicles which will also include a radical Shooting Brake version.
The Vanquish Zagato family started with the Coupe, which was unveiled at the Villa d'Este show in Italy last year, and this was followed up by the convertible Volante version of that car at Pebble Beach. Now the British luxury sports car brand and the Italian coachbuilder are using the American classic car event to reveal the Speedster – and to tease a fourth variant, the Shooting Brake, which is due on sale in 2018.
The Speedster gets cues already seen on the Coupe and Volante, with a different front grille and headlight treatment. However, its design beyond the back of the two-seat cabin takes a dramatic twist, thanks to a pair of flying buttresses which appear to be made from carbon fibre.
The car is likely to be a fixed open-roof creation, and Aston and Zagato will follow their policy on 2003's DB AR1 by not offering even a temporary cover that could keep the cabin dry when the car is parked.
Aston's Speedster will share the same mechanical underpinnings as the other Zagatos, with a 592bhp 6.0-litre V12 engine and a bespoke 'Zagato' suspension set-up. Just 28 examples of the car will be made, and they've already been sold – despite a price tag said to be more than £500,000.
The Vanquish Zagato Shooting Brake, meanwhile, will be the first 'estate' officially produced by Aston Martin in the company's 104-year history. It will also get V12 power and 99 examples will be made. The Vanquish Zagato family was conceived by Aston chief creative officer Marek Reichman and Zagato CEO Andrea Zagato, as an extension of the relationship that has existed between their two firms since the DB4 Zagato was seen at the London Motor Show in 1960.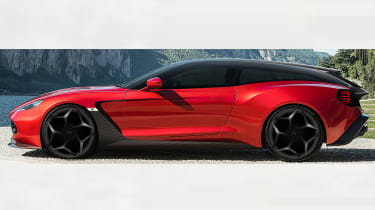 Aston plans to produce 325 limited-edition models across all four variants. Reichman said: "We haven't released Zagato models as a family before, at least not in this way, but the idea is not without precedent. Think back to the DB7 Zagato and DB AR1, or the V8 Zagato Coupe and Volante, for example. We've simply taken things a few steps further.
"Why create a family of Zagatos? Well, many of our customers want different things. Some prefer the purity of a Coupe, but others love the idea of something more extreme, such as the Speedster. And yes, some of them have ordered one of each."
"Creating cars with Zagato is a true creative partnership," he added. "Andrea Zagato and his team have direct input, so these cars are the result of a close collaboration between two design teams.
"There's so much history between Zagato and Aston Martin that we know one another's brands incredibly well. The relationship is very much instinctive. We bring the best out in one another."
Reichman said that Aston and Zagato would resist the temptation to extend production of the vehicles, even if – as expected – demand outstrips supply.
"There's always over-demand from our clients and patrons," Aston's design boss added. "We could easily fulfil demand for more cars than this, but we want Zagato to remain something very special.
"We're creating collectibles: the future concours cars. And with 325 cars divided between 99 Coupes, 99 Volantes, 28 Speedsters and 99 Shooting Brakes, they are still the rarest of the rare."
Click on the gallery above to see more of the Aston Martin Vanquish Zagato Speedster...