Audi launches the UK's first one-card charging service
Buyers of all electrified Audis can now charge their cars at hundreds of UK charge points with a single subscription service.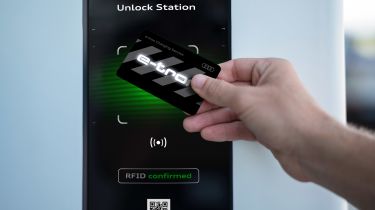 Audi has launched the e-tron Charging Service. It's the UK's first one-card electric vehicle charging scheme, which allows owners of all electrified Audis to charge their vehicles at more than 33 percent of the UK's public charging network, without the hassle of managing multiple subscriptions.
Subscribers will receive an RFID card which allows them to charge their vehicles at compatible charging points. The incentive is currently supported by 18 of the UK's electric vehicle charging operators, (including IONITY, Pod Point, Source London and Instavolt), although Audi plans to expand its network over the coming months.
• Best electric cars on sale now
Audi offers its customers a choice of two tariffs – "City" or "Transit." The former service costs £4.95 per month and is aimed at drivers who predominantly cover short distances. With the subscription service, customers pay a standard rate of 30p/kWh for AC charging or 39p/kWh for DC fast-charging.
Audi's "Transit" tariff is priced at £16.95 per month and gives drivers access to the higher output 150kW IONITY charging network. The service would allow Audi e-tron owners to recover an 80 percent charge in only 30 minutes, at a flat rate of 28p/kWh – representing a saving of 40p/kWh over the standard IONITY charging tariff.
What do you make of Audi's new one-card charging service? Let us know in the comments section below…