Audi revises 2023 trim level range around Sport, S line and Black Edition models
Audi says the new trim level structure will provide a simpler experience for customers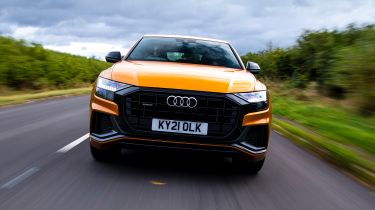 From today Audi customers will see a change in trim levels, with Sport, S line and Black Edition for standard models and sportier S-badged models coming in either Black Edition or range-topping Vorsprung guise. 
The aim of the restructure is to simplify Audi's model names and the firm claims it's almost halved the number of model derivatives as a result. 
For Audi's entry-level model, the A1, up to the range-topping A8 luxury limousine there's Sport, S line and Black Edition to choose from, however the A6 and A7 have been not been earmarked for the new trim level as the upcoming A6 e-tron could cause those two internal-combustion engined models to change name. 
Audi's Q-badged range of SUVs follow a similar approach, although the flagship Q7 and Q8 cars come with a choice of S line, Black Edition and Vorsprung variants. 
That's not all, because Audi now provides two new option packages. The first is the Technology Pack which costs from £1,295 in the A1 up to £2,995 for the Q7, Q8 and A8 includes an upgraded sound system, wireless smartphone charging, front seat heating and Audi's park assist system. The Technology Pack is available on Sport, S line and Black Edition models. 
There's also Technology Pack Pro which costs from £2,995 up to £8,795. It adds features like a panoramic sunroof, a head-up display, powered seat adjustment and more driver assistance programmes. Technology Pack Pro can be optioned on every model in the Audi range.
Want to know how much your car is worth? Try our free valuation tool...