"Traffic-light reading car tech is great but governments must help"
Traffic light recognition tech is incredible but requires co-operation from governments, says Mike Rutherford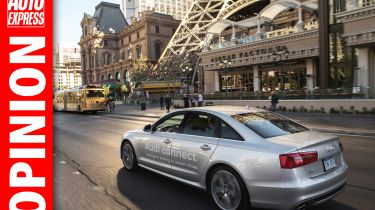 I must admit, one year ago when Audi first hit me with its ambitious Traffic Light Recognition Technology (TLRT) promises, I was pessimistic.
But all that changed last week when the brand urged me to be among the first in the world to give TLRT a go in busy Berlin on a murky Monday during the evil evening rush hour.
TLRT is borderline surreal. On open, free-flowing roads, the driver doesn't know it's there. However, it's a different story in town, as the Audi he's in and that set of traffic lights ahead effectively enter into silent but meaningful 'conversations' with each other.
• Government to spend £15million on 'road revolution'
If, for example, the driver sees green lights 200 metres up the road and considers speeding up to get through them before they change, he'll think again after eyeing the dial in the Audi's dashboard, which says there's just, say, three seconds (and counting down) before green becomes red.
However, the TLRT tale gets better still. Once coming to an undramatic halt and feeling the engine automatically cut out, the driver is then informed, for example, he's got another countdown of 70 seconds before the power unit automatically fires up, then a further five seconds before the lights actually turn green and he's off.
Audi's thinking is that during this minute or so of guaranteed driving inactivity, the motorist can sip coffee, glance at a magazine, or just chill. Added bonuses include reduced consumption and emissions, smoother traffic flows and a healthier driving experience. It's brilliant, especially as Audi will charge customers hundreds rather than thousands for it.
• Removing white lines from roads reduces speeds
Its audaciously clever gadgetry is only as good as the faceless highway management types at national and local governments, though. Unless they allow Audi access to their traffic light phasing data, TLRT is toast.
Berlin's civil servants are enthusiastically working with the brand to facilitate TLRT and enjoy the resulting benefits. The big question is: will council employees in towns and cities across Britain be equally helpful with their data? If they aren't, they'll be robbing motorists of technology that undoubtedly results in smoother traffic flows, plus cleaner, greener and more enjoyable, fuel-saving car journeys. What's not to like?