Audi A3 Sportback vs Volvo V40
The Audi A3 Sportback promises a tempting mix of style, practicality and efficiency. Can it see off the Volvo V40?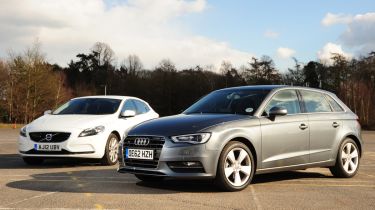 When the Audi A3 was launched last year, it set new standards for quality in the premium hatchback class. But we thought the overall package didn't quite make it a market leader.
One letdown was the three-door-only layout, which compromised practicality. Audi has now redressed the balance with the launch of the five-door A3 Sportback. And in its first test, we try the 120bhp 1.4 TFSI turbo petrol model in mid-range Sport guise.
Its rival here is one of the most stylish premium hatches around – the Volvo V40. It also has a smart interior and is packed with kit. We line up the SE model powered by a 1.6-litre turbo petrol T3 engine, which matches the Audi for price, but promises more performance.
So can the new A3 Sportback take victory? Or does the V40 have the depth of talent to back up its sharp looks?
Verdict
The A3 Sportback adds five-door versatility to the three-door model's already impressive combination of first-class build quality and refined road manners. The 1.4 TFSI turbo petrol engine is an excellent choice, too, thanks to its smooth responses and decent fuel economy. If you're not covering high miles, it's the best engine currently offered in the A3.
However, the Volvo V40 still has a lot of appeal. While it can't match the A3's boot space, and build quality isn't quite at the same level, it's a stylish hatchback inside and out, and is relaxing to drive.
The T3 engine has the performance and emissions to match the Audi, and it's smoother than the diesels offered in the V40. It's worth looking at if you want something different from the default German choices.
So these two cars are really closely matched for performance, comfort and refinement – but there's a clear gap between them when it comes to finances. The A3 Sportback is cheaper, and while standard kit is similar, the Audi's options cost less, too.
Both cars are currently available with fixed-price servicing, but the Audi edges ahead again because you'll get more money for it when you come to sell on. As a result, the A3 Sportback wins this test.