Audi A4 Ultra review
Efficient Audi A4 Ultra saloon doesn't match up to rest of eco range
When we drove the A6 Ultra we were really impressed by its power, smoothness and efficiency. In all of these areas it blew away the competition. But the same can't be said of the Audi A4 Ultra. Refinement and handling are on a par with the new C-Class, but the Mercedes has better tech and is cleaner – although we'd go for an A3 Saloon over both.
If you're after a fuel efficient version of one of Audi's more compact saloons, then there's always this new Audi A4 Ultra.
Powered by a new 2.0-litre diesel producing 161bhp, this car has 29bhp more than the 2.0 TDIe found elsewhere in the range. It's more efficient, too, emitting 109g/km of CO2, compared with 112g/km, and claiming 67.3mpg economy. In fact, about the only thing the TDIe has going for it is that it costs about £1,000 less than an SE Ultra – but even that saving is wiped out by the difference in company car tax.
With the new engine on board, we were expecting new levels of refinement, but it's actually not all that impressive. While it's relatively well isolated from the cabin, the noise that the engine makes is a bit rattly under acceleration.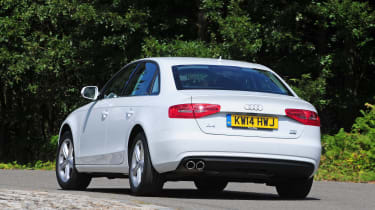 You can tell that this car has long gearing with the aim of maximising fuel economy, too, because it just never feels especially fast. The engine has plenty of torque, but the six-speed manual box's long ratios mean A4 Ultra never feels all that strong in-gear. On the plus side, the engine barely breaks a sweat in sixth when you're on the motorway.
All Ultras come on Sports suspension lowered by 20mm to help improve aerodynamics, but we found that this set-up was too uncomfortable to live with on a long journey. Compare it to the ride you get in a Mercedes C-Class – the 104g/km C220 BlueTEC, for example – and you'd choose the Mercedes every single time.
And while there's nothing wrong with the quality of the Audi's cabin, the technology and design is definitely beginning to feel a generation behind. The touchpad and colour screen fitted to the Mercedes are far better than what's on offer here, and it just feels more contemporary and luxurious. The Audi's back seats have enough legroom for adult passengers, and the doors open wide to make access easy.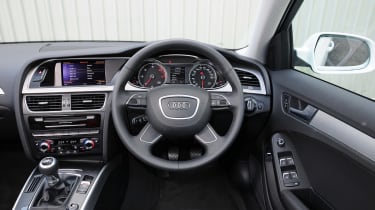 If you do have your heart set on an Audi saloon – and a frugal one at that – then we'd recommend the A3 Saloon instead. The 2.0 TDI Sport model is not only cleaner and more efficient, but is based on the newer MQB platform so it feels more comfortable and planted in corners, too. On top of that, there's a hefty £3,000 saving. And when you put it this way, the A4 Ultra just isn't that easy to recommend.