New Audi Sport Performance Parts R8 revealed
Motorsport-inspired R8 special based on the V10 Plus limited to just five units in the UK, priced from £176,560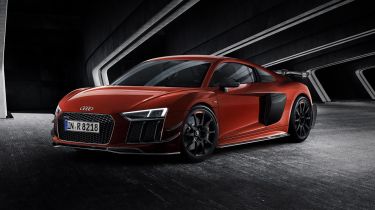 The Audi R8 has received a motorsports-inspired makeover in an ultra rare special edition. Known as the Audi Sport Performance Parts R8, the new model is based on the R8 V10 Plus and receives a mix of aerodynamic, weight saving and cosmetic upgrades.
The most obvious changes are the aero tweaks, all of which are finished in bare carbon fibre. At the front, a deep splitter sits between wider air intakes that feature fins to channel air into them, and canards to guide air around the car's flanks.
The flanks feature wider sill extensions, and at the back there's a gaping rear diffuser and a huge fixed, top-mounted rear wing. The changes mean that at 205mph, the Performance Parts R8 generates 250kg of downforce - an increase of 100kg over the regular R8 Plus.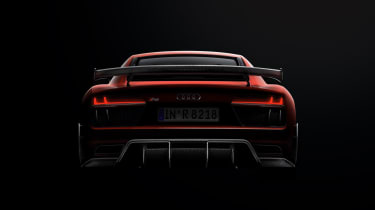 The standard car's suspension setup has been replaced with a set of three-way adjustable coilovers, while a set of milled 20-inch wheels wrapped in Michelin Pilot Cup 2 tyres help to reduce unsprung mass by 8kg. A set of titanium backing plates for the brakes shave a few more grammes, while the carbon ceramic discs are gripped by a pads constructed from a more fade-resistant material.
The new special edition uses the same mid-mounted V10 as the R8 V10 Plus. That means that the 5.2-litre unit makes 602bhp and 560Nm. The V10's howl is helped to sound its most glorious thanks to the standard fitment of the Audi R8 sport exhaust.
Cosmetically, the Performance Parts R8 is only available in a Misano Red paint finish, while inside there's an alcantara-trimmed steering wheel with a red 12 o'clock marker and nappa leather seats.
Build numbers for the Audi Sport Performance Parts R8 will be strictly limited: 44 examples will be produced, with just five coming to the UK in right-hand drive, each priced from £176,560.
Check out the Audi R8 Spyder V10 Plus…