Bentley Bentayga, Flying Spur and Continental GT to survive the switch to electric
The Bentley CEO sees no reason to axe the brand's established model lines as it moves into the all-electric future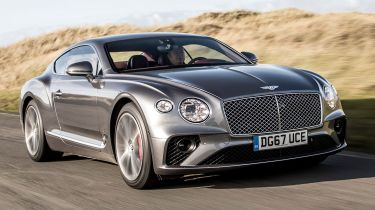 Bentley is likely to stick with existing models as it moves into an all-electric future, the company's boss has said - although the British brand may also expand its portfolio at the same time.
The Crewe-based manufacturer has just launched its second plug-in model, the Flying Spur Hybrid. It's expected to bring its first pure-electric vehicle to market in 2025, and has stated that it will transition completely to zero-emissions motoring by the end of the decade.
Speaking at the launch of the Flying Spur Hybrid, Bentley CEO Adrian Hallmark said that he expects the firm's existing nameplates - Bentayga, Flying Spur and Continental GT - to be part of the journey towards pure-electric motoring. "I don't see why we'd need to change nameplates," he said. "Would a Bentayga still be called the Bentayga if it was an electric one? Probably, yes. The Continental GT is a huge player in its segment; Flying Spur is the reference point in the luxury sedan segment. All three of these nameplates are well established and segment leaders; I don't see why we'd change them." He did suggest, though, that additional Bentley models might be possible as part of the shift. "This doesn't mean we won't innovate and do other body styles," he said.
Hallmark also confirmed that Bentley's electric push will continue to be based on technology developed by Audi, albeit with input from Bentley engineers, instead tapping into the newly formed Bugatti-Rimac partnership. "We don't build hypercars and sports cars," he said. "For the conventional, let's say, mere 207mph model that we offer today, we will rely on the Audi Group in particular for the core technologies we need. Can I imagine ever collaborating with Rimac, Porsche and Bugatti on something different? Who knows."
Do you like the idea of electric Bentleys? Let us know in the comments...