Bentley considering multiple SUVs
Bentley CEO interested in derivatives of its first SUV due later this year, while 2014 sales figures set new record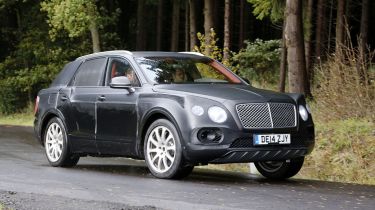 Bentley Chairman and CEO, Wolfgang Durheimer, has expressed interest in a expanding the number of Bentley SUVs, to compete with the likes of Land Rover, albeit at a higher price point. The revelation came during a press conference where Durheimer announced record global sales of 11,020 cars in 2014 – a nine per cent increase on 2013.
"There are good examples in the market, so a derivative is an interesting idea," Durheimer said. Kevin Rose, head of sales and marketing, added: "We are keeping a close eye on what Land Rover has done with the Range Rover, Range Rover Sport and even the Evoque."
The rapid growth of the SUV segment, which Durheimer revealed is growing at three times the rate of the new car market as a whole, clearly hasn't escaped his attention and could be the catalyst for both a smaller SUV and sportier derivatives of the car we'll see later this year.
Bentley's first SUV is expected to arrive later this year, possibly at the Frankfurt Motor Show in September. It's billed by Durheimer as "the most luxurious and capable SUV in the world", and Bentley has already received over 4,000 "expressions of interest" from customers for the £140,000 off-roader, despite earlier projections suggesting annual sales of just 3,000 SUVs per year. It will be offered with W12 petrol, V8 diesel and plug-in hybrid powertrains.
"As soon as the SUV is delivered we will keep the momentum going by adding more and more models that stay true to the brand," Durheimer added. This follows Durheimer's revelation back in July that Bentley is looking to add a fifth model line – either a two-seater sports car or another coupe priced between the Continental GT and Mulsanne – by 2018.
Asked in July if we would see a concept of either of the new models, Durheimer said: "If I answer honestly, I would like to do both." You'll probably have to wait until the company's SUV is fully revealed towards the end of 2015 before seeing anything, though, as a decision on the new model won't be made until mid-2016.