Safest executive car: Volkswagen Arteon
Premium quality mixed with excellent safety and low running costs. What's not to like about the VW Arteon?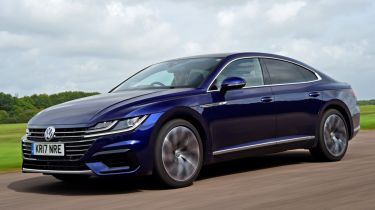 The Volkswagen Arteon is a worthy flagship for the VW range, and while this 4-door coupe may not be a direct replacement for the CC, there is no denying that visually they appear similar. It goes up against the likes of the BMW 4 Series Gran Coupe and Audi A5 Sportback, but neither of those can claim the best in class for executive cars in the 2017 Euro NCAP tests.
The Arteon scored highly across the board, in coming at 96% and 85% for adult and child occupant protection respectively. Pedestrian and safety assist areas were also strong, achieving 85% in the former and 82% for the later.
Drivers looking for a well-equipped company car may want to look towards the Passat for the financial savings, as it can match its sleeker sibling on most criteria. However, if the best safety ratings and some extra style are more important to you, the VW Arteon is a great option.
Safest executive car - previous winners