Duesenberg Model J
Duesenberg Model J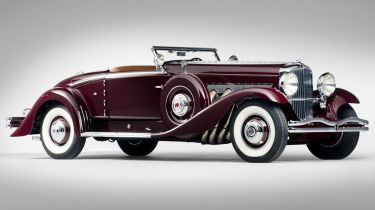 The Duesenberg Model J is revered amongst enthusiasts as it was once considered the finest car on sale. It's certainly true of American manufactured models, but not such a clear-cut case when you factor in European rivals such as Rolls-Royce, Bugatti or Maybach.
Still, there's no doubting the Model J's magnificence. The car even inspired an expression occasionally still in use for wonderful things today – it's a doozy!
Following its launch in 1928 – ironically a year before the great depression – the Model J rapidly became the must have status symbol of the rich and famous. Notable owners included Al Capone, Great Garbo, Howard Hughes, Mae West, Clark Gable, as well as various European royals.
It's easy to see why they liked the car so much, as it featured the most powerful engine available from any US maker – a 'straight eight' work of art boasting almost 7.0-litres and making 265bhp. As such, it was both the fastest and most expensive American car of its era, made more so by the fact that it was supplied only as a rolling chassis so customers had to order a bespoke body from the coachbuilder of their choice.
Duesenberg Model J