Cadillac Type 53
Cadillac Type 53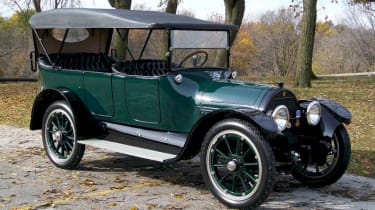 Not many people have heard of the Cadillac Type 53. For starters it was designed, built and sold mainly in the US, second it was only available for a single year in 1916. Thirdly, it wasn't even very popular!
Every modern driver owes the little-known Cadillac a debt of gratitude though, because it was the first car to introduce driving controls in the layout we use today. That means with three pedals for accelerator, brake and clutch (set out in the right order), and a gear lever and handbrake located between the seats.
The layout was soon copied by other carmakers, and not least by the little Austin 7, which arrived in 1922 and had a global impact as well as inspiring versions built by BMW in Germany, and Nissan in Japan. Sadly Herbert Austin didn't copy the Caddy's big 77hp V8 for his diminutive 7, but he did help to put the motorcar in reach of more people than ever, thanks to its low cost.
1.

Mustang

2.

Corvette

4.

Ford Model T

5.

Jeep
8. Cadillac Type 53

9.

Ford GT40