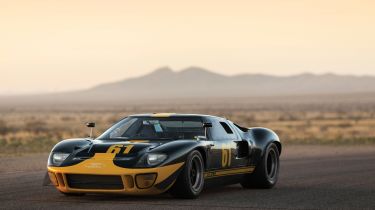 Commissioned from Eric Broadley, the owner and design guru of successful English racing car builder Lola Cars, the legendary Ford GT40 was developed purely to beat Ferrari in sports car races.
The two brands weren't natural competitors, but Enzo Ferrari famously upset Henry Ford II after unilaterally pulling out of talks about a possible takeover of Ferrari. Ford had already spent a fortune on putting the deal together, and wasn't a happy bunny.
Determined to humiliate the Italians on the track where it would hurt the most, money was pumped into the new GT40 project which took shape first in the Lola Cars factory in Bromley, and then at a new Ford Advanced Vehicles facility in Slough. Powered by various mid-mounted Ford V8s starting with a 289 cubic inch unit, after a tricky first couple of years the GT40 became one of the dominant forces in endurance racing.
In an original press release from 1966, Ford says "it is probable that during the year a road version with a variety of owner amenities, will be introduced to supplement the existing design."
In such low-key tones, the arrival of one of the most exciting supercars of the 1960s was heralded. In spite of its legendary 1-2-3 race win at Le Mans in 1966, just 30 GT40 road cars were built, although it spawned many replicas and even the Ford GT tribute car that we're all so excited about today.
Ford GT40