Tesla Model S
Tesla Model S
Tesla's Model S is not just one of the best electric American cars, it is one of the best electric cars, period. This is a seriously impressive feat when you think about how new to making cars Tesla is (compared to marques such as Ford).
The Model S is a large saloon car that runs on electricity alone - but it's not limited to a short 150-mile range like some battery-powered vehicles. Since the first UK-market Model S arrived in 2014 Tesla has regularly revised and improved its saloon. So much so that the Long Range Plus version is now claimed to have a WLTP range of 405 miles – almost 100 more than the longer-range model offered at launch. It is worth noting that a range north of 400 miles is more than some fossil-fuel powered rivals can manage on a tank of fuel.
There is also a 'Performance' version, which trades 9 miles of theoretical range for a higher top speed (162mph vs 155) and a faster 0 to 60mph time (2.3 seconds vs 3.7). Numbers like these show that a gentle touch of the accelerator is enough to fire a Model S towards the horizon at rapid pace. In addition to being seriously fast, the Model S is comfortable and luxurious. Then again, it should be as prices start at near enough £80,000.
At the top of the model hierarchy is the Model S Plaid, which is priced at around £130,000. It is claimed to be able to do more than 520 miles on a single charge and go from 0 to 60 in under two seconds. Few supercars come close to such numbers...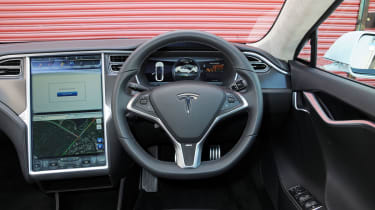 With no engine, and the batteries and electric motor mounted low in the chassis, the Tesla is really practical. In the back, there's plenty of legroom, you get three ISOFIX mountings and there's also no transmission tunnel to be climbed over. Some early models even came with rear-facing jump seats in the boot suitable for kids under 10-years-old. Without them, there's a huge amount of space to store your luggage, too.