Tesla Model S
Tesla Model S
Not only is the Tesla Model S the best electric American car, it's also one of the best electric cars available today - and for a relatively small start-up company like Tesla, it's seriously impressive that the car has made it to market in this form. The Model S is a large saloon car that runs on electricity alone - but it's not limited to a short 100-mile range like many of its rivals. The Tesla can manage up to 340 miles on a single charge, which is comparable to some of its combustion-engined rivals on a tank of fuel.
Buyers can choose between a 70kWh battery with a 275-mile range or the larger 90kWh battery with the full 311 miles. There's also a P90D Performance model, which drops the 0-60mph time to 2.8 seconds. Give the throttle a gentle touch and the Model S responds instantly. Get too eager and the traction control kicks in immediately to help the rear tyres place all that instant torque on the road. It's a seriously fast car, thanks to the huge torque from the get-go from the electric motor, but it's also luxurious and comfortable.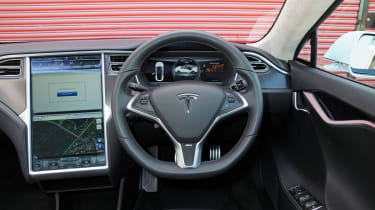 In corners, the heavy Tesla feels numb and responds lazily to inputs. But with the 7,000-cell battery incorporated into the floorpan, the mass is low down and the Model S feels stable, while the optional Performance Plus pack's stiffer anti-roll bar ensures body control is decent.
With no engine, and the batteries and electric motor mounted low in the chassis, the Tesla is really practical. In the back, there's plenty of legroom, you get three ISOFIX mountings and there's also no transmission tunnel to be climbed over. You can even have a £2,100 set of rear-facing jump seats in the boot for kids under 10. Without them, there's a huge amount of space to store your luggage, too.