Cadillac Eldorado
Cadillac Eldorado
Representing the luxury side of American cars is the Cadillac Eldorado. Elvis Presley famously bought a pink Cadillac, and even though that one wasn't an Eldorado, it helped the Cadillac brand become what most of us think of when it comes to American luxury cars from the 1950s.
The Eldorado makes its way onto this list thanks to the stunning 1959 version, which featured huge tailfins and rocket-shaped brake lights. The space race had started when this Eldorado was being designed, and the US was gripped by futuristic ideas and designs like this one. It's a perfect reflection of American luxury cars from this period, with its huge 6.4-litre V8 and gigantic nose and tail.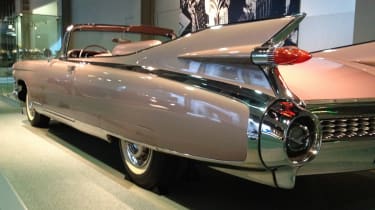 The Eldorado was available as a four-door, but also as a two-door convertible. This was no sports car, however, weighing nearly two and a half tonnes and being over two metres wide. The name means "the golden one" in Spanish - which is fitting given that the Eldorado was an expensive model that sat near the top of Cadillac's range.
Cadillac Eldorado