Chevrolet Corvette
Chevrolet Corvette
The first Chevrolet Corvette was produced in 1953, a pretty two-seater sports car with a powerful engine under the bonnet. Compared to contemporary supercars, the Corvette has always been a bit of a bargain - and the more modern models have got some serious performance to back them up as well. In fact, the current Corvette Stingray introduced in 2014 is a fantastic car that outperforms almost everything else in its price bracket.
You don't buy a car like this unless you like to be noticed, so the Corvette Stingray is unashamedly brash to look at. It retains similar proportions to its predecessor, the C6, with a long bonnet stretching out in front of the driver, a low, wide stance and short rear overhang.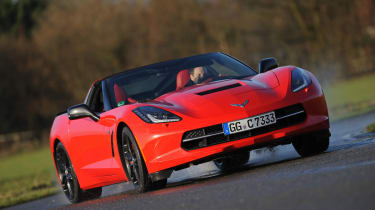 The Corvette's 460bhp 6.2-litre V8 means a savage turn of pace, plus an epic noise on full throttle - helped on by the four trumpet-like exhaust pipes on the back. If you're feeling brave, the traction control can be switched off completely, letting you pull flamboyant tail slides wherever the track allows.
1.

Mustang
2. Corvette

4.

Ford Model T

5.

Jeep

9.

Ford GT40