Chevrolet Corvette
Chevrolet Corvette
The first Chevrolet Corvette was produced in 1953, a pretty two-seater sports car with a powerful engine under the bonnet. Compared to contemporary supercars, the Corvette has always been a bit of a bargain - and the more modern models have got some serious performance to back them up as well. In fact, our test of the 2021 Corvette Stingray confirmed its status as a drivers' car that can outperform almost everything else in its price bracket.
You don't buy a car like this unless you like to be noticed, so the Corvette Stingray is unashamedly brash to look at. That said, the current-generation Stingray, aka the C8, is a huge departure from its ancestors. This is largely down to the engine being mounted in the middle of the chassis rather than at the front.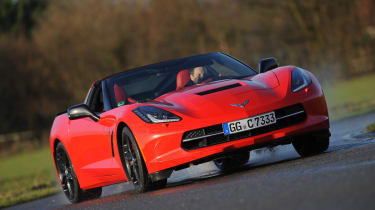 Chevrolet hasn't radically changed the engine, though – it is a 6.2-litre V8 similar to the one in the last model, although it is now a dry sump unit like many of Europe's more exotic performance cars. All C8s come with an automatic gearbox and send power to the rear wheels – on the subject of which a C8 produces a rather sizeable 495bhp.
Corvette