Possibly the most recognisable American car ever, the Ford Mustang is credited with the creation of the 'pony car' class. A coupe-style car with a long bonnet and cut-off rear, the first-generation Mustang was one of Ford's most successful models ever. It's the original first-generation version that started production in 1965 that's the most iconic of all.
The Mustang range started out with a relatively small straight-six engine, but it's the larger V8 that most will associate with the car. The unit produced between 200bhp and 375bhp, with the Boss 302 model getting the most powerful motor. Hard-top and convertible bodystyles were offered, but it's probably the sleek Fastback version that's best remembered, having featured heavily in the classic film Bullitt.
Although the original Mustang continues to be revered across the world, Ford's latest version, revealed in 2013, was the first to be right-hand-drive and sold in the UK – in both coupe and convertible form.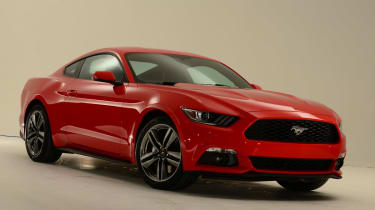 It might surprise some to hear that Ford made a Mustang with a four-cylinder EcoBoost engine under the bonnet, but it did, it was sold in the UK until recently and it offers a more affordable route to Mustang ownership. Buyers who are after the classic muscle car experience will be pleased to know the 'Stang is also available with a storming 5.0-litre V8.