Sunbeam Alpine - Best classic sports cars
Not quite a Ford Thunderbird in miniature, but the Sunbeam Alpine spawned a genuine muscle car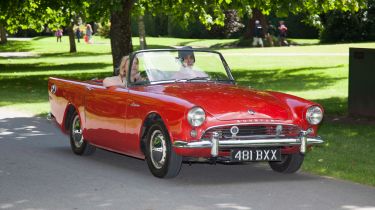 In spite of its rakish good looks, the Sunbeam Alpine has humble underpinnings derived from the much more prosaic Hillman Husky estate car – although its mechanical bits were adopted from the Rapier saloon. Production started in 1959 with a 1.5-litre engine good for almost 100mph and 0-60mph in 13.6 seconds, and the Alpine was notable as the first British sports car to feature wind-up windows.
A Series II version arrived in 1962 with an 80bhp 1.6-litre engine, but the fastest Alpine was the Series V car made between 1965 and '68, which featured a 93bhp 1.7-litre engine. The car was pretty successful in motorsport, and sold well, with many being exported to the US. In fact its design was very US-focused, looking a little like a smaller version of the 1950s Ford Thunderbird. Perhaps it was no coincidence that one of the Alpine's design team had previously worked at Ford, although the Loewy Studio was credited with the final styling.
Also inspired by the US was a highly desirable muscle car version of the Alpine that was known as the Sunbeam Tiger. The idea apparently originated with racing driver Jack Brabham, and the project was passed to the man behind the Cobra, Carroll Shelby for development. The Tiger used a small-block 260 cubic inch (4.3-litre) V8, and later received Ford's 289 cubic inch (4.7-litre) engine.
Best classic sports cars
Sunbeam Alpine