AC Cobra - Best classic sports cars
Carroll Shelby's iconic Cobra is the legendary snake that has inspired a legion of fakes...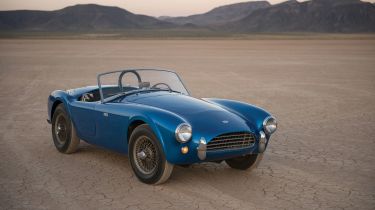 It's tempting to say there's nothing quite like the awesome AC Cobra from 1962, but that would be to ignore the amazing diversity of kit cars and replicas the model has inspired.
The heady cocktail of a mighty American V8 shoe-horned into the traditionally British AC Ace roadster was first suggested by US racing driver Carroll Shelby. His initial idea was to use Chevy engines, but Ford were keener, and AC modified the Ace to suit. Completed cars were exported to Shelby minus engine and gearboxes, and the V8 powertrains were installed in the US where the car was sold as the Shelby Cobra.
Originally 460 cubic inch (7.5-litre) engines were used, but the famous 289 cubic inch (4.7-litre) V8 soon made its appearance. Later on in 1965, to make the Cobra competitive on the international GT racing scene, the 427 cubic inch (7.0-litre) big block Ford engine was fitted to a heavily revised Cobra chassis with coil-sprung suspension replacing the earlier transverse leaf system. Some cars were built for racing, but a number were also sold as road cars – the legendary 427 Cobra S/Cs, for 'semi-competition'.
While the Shelby Cobra was a successful GT racer, its poor aerodynamics weren't suited to the high speeds attained on the Mulsanne straight at Le Mans. As a result there were six Shelby Daytona coupes built with special bodywork, which survive as extremely valuable collectable items today.
The Shelby Cobra was discontinued in 1967, but AC's own version called the AC 289 remained in production in the UK until 1969. AC Cars has changed hands several times since then, but has continued to build - or license - production, right up to the present day. AC Heritage at Brooklands previously offered wealthy customers the chance to purchase a brand new AC 289 or 427, hand built in aluminium by craftsmen using the original tooling.
Best classic sports cars
AC Cobra