Ferrari 250 GT - Best classic sports cars
If you don't go weak at the knees in the presence of a Ferrari 250 GT, we suggest seeking medical help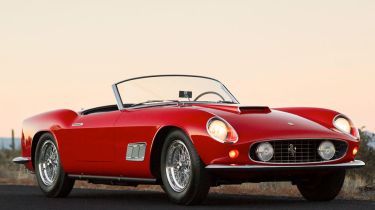 Arguably best known as the Ferrari 250 GT California Spyder - and extremely highly prized in that guise if auction prices are anything to go on – the Ferrari 250 GT is one of the ultimate collectors classics from the 1950s and '60s.
The 250 models introduced a new 3.0-litre V12 engine for Ferrari, and made its first appearance on the race track in 1952. Road going versions arrived three years later, and as the car had a separate chassis there were a variety of body designs offered over the following years by coachbuilders such as Boano, Scaglietti and Pininfarina. The 250 chassis was available in short-wheelbase and long-wheelbase from, and California Spyders were built both on the long chassis, and latterly in SWB form. The SWB California models are particularly desirable - a glass-fibre replica famously featured in the movie Ferris Bueller's Day Off - and several 250 GT Spyders and Berlinettas (coupes) have connections to Hollywood legends and rock stars.
The most highly sought-after Ferrari 250s of all are the 250 GTO versions homologated for GT racing. Just 36 examples of this racing coupe were built from 1962-64 (there were 33 series I and 3 series II cars, plus 3 330 GTOs with a larger 4.0-litre engine), even though FIA regulations demanded that 100 must be made in order for the car to be eligible for competition. It later emerged that Ferrari had cheated the FIA inspectors, but the car is still officially credited as the winner of three GT world championship series in 1962, '63 and '64.
Ferrari 250 GT