Jaguar E-Type - Best classic sports cars
Enzo Ferrari called the Jaguar E-Type the most beautiful car ever when new. Half a century hasn't jaded the looks!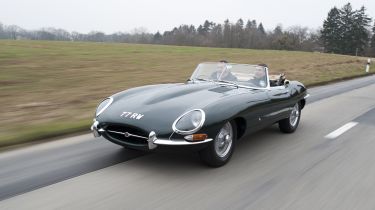 To understand the impact of the Jaguar E-Type's arrival in 1961, you've only to think back to the cars most people were driving at the time. The impossibly glamorous E-Type launched into a sea of Austin A40s, Morris 1000s and Ford Populars, bringing incredibly sexy styling, the promise of a 150mph top speed, and even a price that looked attainable – well, almost – to the average driver.
Famously described by Enzo Ferrari as the most beautiful car ever made, the original 3.8-litre straight-six cars were followed by 4.2-litre versions and finally Jaguar's famous 5.3-litre V12. The design evolved through Marks 1, 2 and 3, and the E-Type was finally discontinued in 1975 to make way for the Jaguar XJ-S. There was an open roadster, a closed coupe and a 2+ 2 coupe, and today the values of early Mk1 E-Types are far higher than later models which are less desired by purists.
The E-Type was ahead of its time for its technology as well as its styling, offering supple independent suspension all round, direct rack and pinion steering and disc brakes. As a result, getting behind the wheel of any E-Type is a treat even today, and it's no surprise the car has won all sorts of awards naming it the most beautiful and significant classic sports car of its era.