MGB - Best classic sports cars
Once Great Britain's most ubiquitous sports car, today the MGB is a popular and affordable classic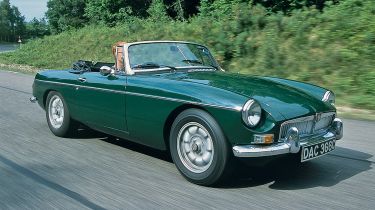 The MGB may have offered only a taste of the glamour or performance of the Jaguar E-Type, which arrived the year before, but its accessibility and price ensured it was a massive showroom success both in the UK and overseas. Over an extended production run from 1962 to 1980 – by which time the MGB was seriously out-dated – over half a million examples of the iconic car and its derivatives were sold, with a large number heading to America.
The MGB was not especially modern even when it arrived in the early '60s, although monocoque construction was an advance on the separate chassis construction of contemporary rivals like the Triumph TR4. It had an 1800cc B-Series engine making 95bhp, and had a claimed 0-60mph time of a little over 11 seconds.
Initially available only as a two-seat roadster, the MGB was later joined by a pretty and practical Pininfarina-styled coupe version called the MGB GT that introduced a hatchback style tailgate. A more powerful six-cylinder car was also available from 1976-69 badged as the MGC, and from 1973-76 you could also buy an MGB GT model powered by the Rover V8.
As with the Jaguar E-Type, it's early MGBs that command the best prices. From 1974 onwards, US crash regulations were met by black plastic bumpers replacing the traditional chrome type. The ride height was also raised an inch to meet new US headlamp regulations, and many MGB fans thought the changes ruined the MGB's looks and handling.
2. MGB
4. AC Cobra
5. Porsche 911
7. BMW 507
8. Lotus Seven
10. Sunbeam Alpine