Ferrari Daytona - Best classic sports cars
174mph and stunning front-engined design are all part of what makes the Ferrari Daytona rock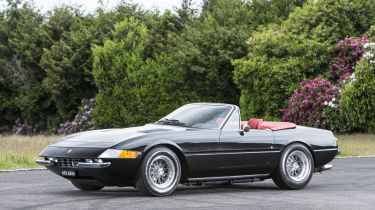 This classic Ferrari isn't really a 'Daytona' at all, as Ferrari itself refers to the car as the 365 GTB/4. Ferrari Daytona is much more evocative though, and was a nickname given to the car to celebrate Ferrari's 1-2-3 finish in the 1967 24 hour race at the Daytona motor circuit in the US.
The Ferrari Daytona was the follow-up to the 275 GTB/4, and thus traces its ancestry back to the 250 GT that also features in this list. The front-engined Daytona uses a much larger 4.4-litre V12 developed from the engine in its Grand Touring predecessors, and its 352bhp was enough to take the car to 174mph with 0-60mph in 5.4 seconds.
The Daytona's long-nosed, droop-snooted styling was penned by Pininfarina and looked impressively modern compared to Ferrari's earlier V12 coupes. Early Daytonas with perspex headlamp covers were updated in 1971 with very fashionable pop-up units. As well as the stylish coupe, Ferrari also made a small number of even more glamorous Spyder versions, and after Daytona production ended in 1973 a cottage industry developed that turned quite a few coupes into Spyder replicas – which were worth a lot more money.
Ferrari enthusiasts harbour a particular fondness for the racing versions of the Daytona, all built for private teams to campaign in the GT class. The 356 GTB/4 Competizione models featured lightweight bodies, and engines tuned up to a maximum of 450bhp. They dominated the GT class at Le Mans in the early 1970s.
2. MGB
4. AC Cobra
5. Porsche 911
6. Ferrari Daytona
7. BMW 507
8. Lotus Seven
10. Sunbeam Alpine