BMW 507 - Best classic sports cars
Elvis Presley bought two BMW 507s, but it was so pricey that too few others bought just one...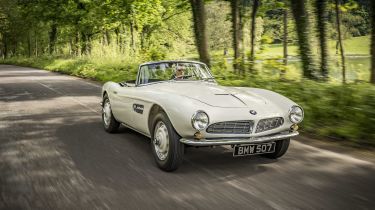 The stunning BMW 507 is such a thing of beauty, it's hard to believe it wasn't a commercial success. Unfortunately though, such was the cost of its development in the early 1950s, that it was vastly expensive and nearly bankrupted BMW. Ultimately, only around 250 were built, making them extremely rare and collectible today.
The idea was a good one, dreamed up by BMW's US importer who wanted a $5,000 rival to the fit between the Mercedes 300SL and cheaper British sports cars like the TR3. Sadly, by the time BMW had finished over-engineering the 507, it had to be sold at $10,000 and the company made a huge loss.
The story makes the BMW 507 all the more fascinating today, especially when you learn that all 250-odd cars were built with hand-formed aluminium bodies meaning no two are quite identical. The specification is appealing to, as the car came with an alloy 3.2-litre V8 with 150bhp and a four-speed close ratio gearbox. That was enough for a 122mph maximum speed and a 0-60mph time of around the 11-second mark – pretty impressive in the BMW 507's heyday.
In spite of its high price, the BMW 507 did find some notable owners, including Elvis Presley who is said to have bought two. At least a couple of cars were modified with American V8 engines too, although massively escalating values on the collector market in recent years has meant they've been restored to original spec.
Best classic sports cars
BMW 507