Porsche 911 - Best classic sports cars
Early Porsche 911 tick lots of classic car boxes. They're rare, desirable, and still highly relevant today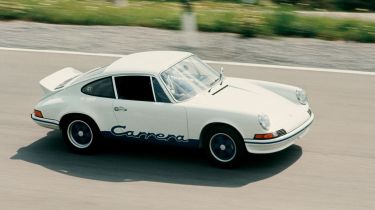 The Porsche 911 has come a long way since the early days, when it was conceived as a more modern, luxurious and comfortable step up from the company's first sports car, the 356.
It's a little known fact that the very first 911s weren't 911s at all. Porsche initially called its new machine the 901, but Peugeot owned the rights in France to model numbers with three digits and a zero in the middle. Porsche had to rethink, and fewer than 100 cars were sold before 901 was changed to 911.
While the 356 had a horizontally-opposed 'boxer' or flat four-cylinder air-cooled engine mounted at the back, the new 911 boasted a flat six making 128bhp – although a 912 version was also available for the US market using a development of the 356's engine, and later the 2.0-litre VW four-cylinder from the mid-engined Porsche 914.
It was the birth of an icon, as the 911's basic layout and shape hasn't really changed much for decades, although the 911s steady evolution means current models are a world apart from their predecessors in technology and performance terms. The first sign of that process came in 1968/9, when Porsche moved the 911 to fuel injection and lengthened the car's wheelbase to help address its reputation for twitchy handling. The early carburettor and short wheelbase versions are now some of the most collectible 911s around.
Over the years, the classic 911 grew in power and performance, with 2.7-litre RS models and 3.0 Turbo models adding to the car's legendary reputation amongst passionate Porsche enthusiasts in the 1970s and '80s. Amazingly, through constant evolution, the original 911 series lasted all the way up to 1989 when the Type 964 series 911 arrived to replace it.
Best classic sports cars