Lotus Seven - Best classic sports cars
Super light, super agile and super cool - if you don't need practicality from your classic, try this early Lotus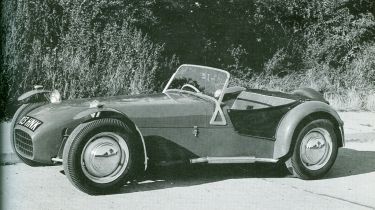 Since the Caterham Seven has now been in constant production since 1973, it's easy to forget the original Seven was actually a Colin Chapman designed Lotus introduced all the way back in 1957.
The Lotus Seven was initially marketed as a kit car, in order to take advantage of purchase tax breaks here in the UK. It had its origins in a single seat racing car design intended for the Formula 2, but as that project didn't reach fruition it evolved into the Lotus Seven road car instead.
Early models featured a 40bhp Ford Popular engine, and were nothing like the pocket-rockets that the cars would quickly become. The initial lack of excitement was soon overcome when the Lotus Super Seven arrived in 1961 with bigger Ford crossflow engines. Ultimately the Cosworth-tweaked 1.6-litre Ford Twin Cam from the Elan made it under the Seven's diminutive bonnet to really uncork the performance.
Light weight helped of course, thanks to an elemental construction using as few chassis members as possible joined by load-bearing flat panels to generate the required stiffness.
Apart from its successes in low cost club racing, and the enthralling handling that made it a rapid but somewhat impractical road car, the Lotus Seven also gained iconic cultural status after appearing with Patrick McGoohan in the cult 1960s TV series The Prisoner. 
Best classic sports cars
Lotus Seven