The top ten best cars for safety features
Driver Power asked UK new car buyers about their cars' safety features. Here are the top ten highest rated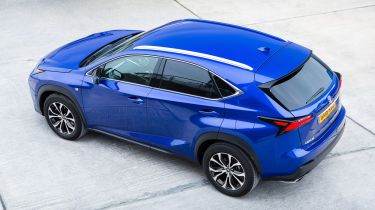 Covering: How satisfied owners are with their cars' protective tech
Winner: Lexus NX
Score: 93.29%
Safety is a crucial issue, so it's good news that manufacturers are constantly taking advantage of new technologies to reduce the risks associated with driving as much as possible.
Topping this category in 2021 is the Lexus NX, which incidentally has a five-star Euro NCAP safety rating. Owners feel the Lexus Safety System+, which features lane-keep assistance, adaptive cruise control, and autonomous emergency braking, among other bits of kit, is a comprehensive suite of features, and should you wish to activate or deactivate any of these, this can be done easily.
Mind you, that would seem to be unnecessary in many cases, because our reports indicate the systems aren't at all intrusive in their operation, and thus don't warrant being deactivated. In fact, many owners say that they like having them working away in the background.
The adaptive cruise control feature is one that owners single out as being particularly useful, along with cross-traffic alert and blind-spot monitoring.
Your view
"The safety features feel very high-end and I believe they definitely reduce the risk of me being involved in a collision with another vehicle."
Safety features top 10
Safety Features

Model

Class

Overall Position

Overall Score

Category Score

Lexus NX

Premium Mid-Size SUV

13

90.15%

93.29%

Nissan Juke

Small SUV

26

88.40%

93.01%

Volkswagen T-Roc

Mid-Size SUV

24

88.89%

92.87%

Volvo XC40

Premium Small SUV

8

90.60%

92.80%

Audi Q3

Premium Small SUV

22

89.24%

92.66%

Toyota C-HR

Mid-Size SUV

4

91.07%

92.51%

Skoda Kodiaq

Large SUV

6

90.92%

92.49%

Hyundai Kona

Small SUV

1

92.35%

92.31%

Dacia Duster

Small SUV

16

89.86%

91.95%

Vauxhall Grandland X

Mid-Size SUV

7

90.85%

91.80%
Click here to tell us about your car in the Driver Power survey...