Best 4x4s and SUVs for Motability
SUVs and 4x4s continue to gain in popularity, with seemingly every manufacturer producing SUV models to fill niche gaps in the market.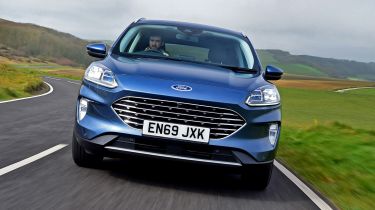 SUVs and 4x4s continue in their popularity, with seemingly every manufacturer producing SUV models to fill niche gaps in the market. Road-biased 'crossover' models have proved especially popular for those who want a high seating positions and lots of space, but will rarely drive off road.
The high seating position is a key factor that has attracted Motability drivers to the SUV market and there is no doubt that the new breed of crossovers makes life on the road more pleasant - even if ultimate off-road performance has been compromised. As well as ensuring you don't have to lower yourself into the car, the higher seats in an SUV provide a better view out from behind the wheel.
In addition, there's the practicality and all-weather performance of an SUV, meaning this class of car contains some of the best options for Motability budgets.
Below are our top 3 affordable 4x4s for Motability buyers...
Skoda Karoq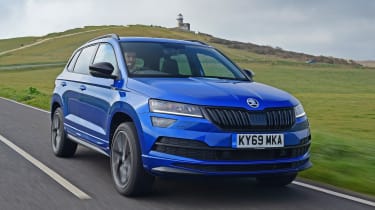 If the larger, seven-seat Skoda Kodiaq is too much metal for you, then the Czech manufacturer has the answer in the shape of the mid-size Karoq SUV.
Efficient engines and well-organised trim levels combine with a mature design to bring a solid, almost premium appeal. There's one five-door body style, and while it only offers five seats, it can be specified with the VarioFlex adjustable rear bench that allows you to alter the amount of passenger legroom or boot space depending on your needs.
There are sportier SUVs, but the Karoq strikes a pleasing balance between comfort and driving fun. Highlights include the supportive seats, a roomy cabin, well laid out controls and a high quality fit and finish, not to mention plenty of gadgets and toys on top versions - it's an impressive effort. 
But, don't just take our word for it. Customers voted Skoda into fifth place overall out of 30 manufacturers in our 2020 Driver Power survey, while the Karoq itself finished a creditable 15th out of 100 cars.
Ford Kuga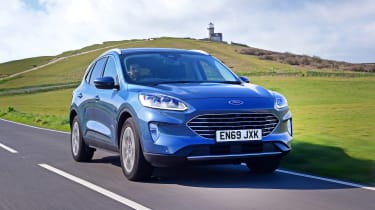 The Ford Kuga is one of the sharpest SUVs on sale. It successfully mixes driver fun with impressive practicality, making for a solid attempt at a one-size-fits-all family car. 
The Kuga's standard kit count is pretty impressive, too. Specs start with the evergreen Kuga Zetec, which gets 17-inch alloy wheels, an eight-inch touchscreen, wireless phone charging and a suite of safety kit including autonomous emergency braking, cruise control and lane-keep assist. 
However, the Titanium trim is likely to prove popular as it adds larger wheels, full-LED lights, dual-zone climate control and a B&O stereo, albeit for a £1,600 premium.
Hybrid tech is also now available throughout the Kuga range, offering customers improved fuel economy and cleaner emissions, although the standard petrol and diesel engines are by no means expensive to run.
Prices start from £24,615, which seems exceptional value for a mid-sized SUV. Buyers will be drawn to the car's overall refinement, solid build quality and decent range of engines and trim levels.
Toyota RAV4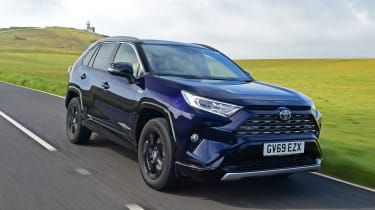 With prices kicking off at almost £31,000, the RAV4 might seem pricey compared with some alternatives. But there's still plenty to recommend - It's spacious, refined and well built, and while some rivals offer sharper handling, the Toyota counters with great comfort. It's just a shame that the infotainment system is still well behind the best in class, and that the engine drones so noisily.
All cars use a petrol/electric hybrid motor and are available with two and four-wheel drive. The difference between them comes at the back: an extra £2,240 buys a second electric motor to drive the rear wheels. 
Both versions take just over eight seconds to reach 62mph, but from behind the wheel they feel much quicker: the instant torque of the electric motor makes for a lively standing start, and the power builds from there in one smooth, linear shove. The hybrid engine also brings impressive fuel economy and cleaner emissions.
Toyota has made the RAV4 a pretty simple car to drive, too - the precise steering makes it easy to place on the road, and it's light at parking speeds. You can make up your own mind about the exterior styling, but at least it could never be mistaken for a Skoda Karoq or a VW Tiguan. 
Have you ever owned one of our best SUVs and 4x4s for Motability? Give us your review in the comments section below...