BMW and Daimler invest nearly £900m in pooled mobility services
BMW and Daimler to work together on developing their car-sharing, ride-hailing, parking, charging and multimodal transport offerings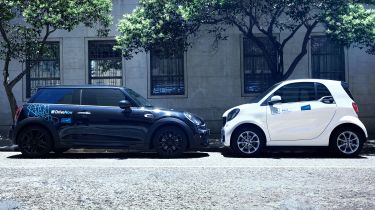 BMW and Mercedes-Benz's parent company Daimler are investing around €1bn (roughly £870m) in pooling and developing their car-sharing, ride-hailing, parking, charging and multimodal transport offerings.
The five services have been broken down into five separate joint ventures, and the collaboration between the two firms will create up to 1,000 new jobs worldwide.
• Volvo reveals new M mobility brand for 2019 launch
Share Now is a car sharing service which allows customers to rent and pay for vehicles via their smartphones. Currently, four million people use the system's fleet of 20,000 cars in 31 cities around the globe.
The partnership will see Share Now's range of vehicles expand to enable the service to cater to a wider audience, with the aim of cutting the overall number of cars on the road in urban areas.
Charge Now is a service from BMW subsidiary Digital Charging Solutions that looks to simplify access to public electric car charge points. It achieves this by displaying them on vehicle sat-nav systems, providing information on the cost of charging, rate of charge and type of socket available. It currently has 100,000 chargers from 250 operators across 25 countries.
Park Now is a digital service that lets users reserve parking spaces in advance, with ticketless entry and exit to car parks and cashless payment. Over 30 million drivers currently use the system across 1,100 cities in Europe and the US. It is hoped the system will reduce congestion in towns and cities, as fewer motorists will need to waste time searching for parking spaces.
• SEAT creates new Xmoba tech company to focus on mobility services
There's also Free Now – a service for booking taxis, private chauffeurs and electric scooters – and Reach Now, which lets users access public transport, car-sharing, ride-hailing and bike rentals all from a single platform.
Harald Krüger, management board chairman of BMW AG, said: "These five services will merge ever more closely to form a single mobility service portfolio with an all-electric, self-driving fleet of vehicles that charge and park autonomously and interconnect with the other modes of transport."
Dieter Zetsche, chairman of the board of management of Daimler AG and Head of Mercedes-Benz Cars, added that the move would see the establishment of "a new player in the fast-growing market for urban mobility".
What you do think of this new investment from BMW and Daimler? Let us know in the comments below...