BMW M boss confirms standalone M model
A new super-advanced halo BMW M model could arrive by 2021, and it's likely to feature some form of electrification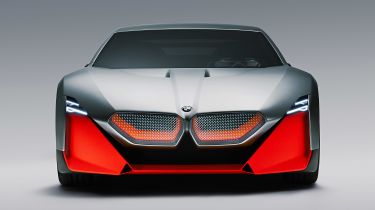 Speaking exclusively to Auto Express at the Los Angeles Motor Show, BMW M boss Markus Flasch said, "I can think of doing standalone M-cars – I like the idea and I think we're going to do something in this direction."
BMW wowed show goers at the Frankfurt Motor Show in September when it showed the plug-in hybrid Vision M Next concept, but Flasch wouldn't commit to the new standalone model following that car's mid-engined layout. "It doesn't necessarily have to be a mid-engined supercar, but definitely it has to stand out from the crowd."
• All the latest from the 2019 LA Motor Show
Flasch wouldn't rule out a different shape of halo car for the M division – when asked if it could be an SUV, he simply replied, "I don't know… Well I do know, but I'm not saying yet!"
Sources within BMW have suggested that the new car could be seen by 2021 and that the car is likely to feature some form of electrification.
Flasch comfirmed to us that we'll see an M division car featuring electrification very soon. "I can't disclose when, but it's not too far away," he said.
"M has never been dogmatic about any particular technology – electrification is not rocket science and it's not the game changer that people think it's an easy answer to every question.
"There won't be a point of time when we turn all vehicles to this or that technology, we will live for a very long time with a variety of powertrains depending on the market and the segment."
As far as M is concerned, that means an electrified propulsion system has to offer more than the internal combustion engine model it replaces. "We will bring electrified propulsion systems as soon as they're better than the predecessor – that's the first rule – we don't have to be the first, we have to be the best," said Flasch. 
While Flasch was non-committal about a standalone M car mirroring the Vision M Next's mid-engined layout, new BMW design boss Damagoj Dukec was very positive about the look and proportion of the concept making it through to production. 
Also speaking at the LA show, Dukec said, "We have a heritage of bringing art cars and race cars together with M. I am convinced that this [Vision M Next] is the right way.
"BMW deserves to be ahead in terms of brand identity. What we did with the M Next, it's a complete different approach in terms of communication and the artwork around the car"
Would you like to see a standalone BMW M model? Let us know your thoughts below...