BMW is developing 'shape-shifting' steering wheels
Steering wheels that change shape are most effective in autonomous driving and emergency situations. BMW has plans to develop the technology.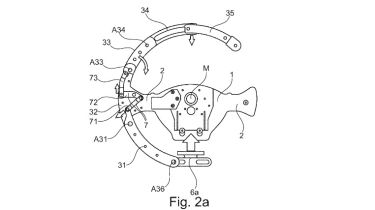 BMW is working on new technology that will see steering wheels change shape before our very eyes.
Patents filed by the German brand show a wheel that can change from a traditional circular shape to an oval shape using separate rim parts that can pivot in relation to each other. According to fan site BMWX2forum.com this could be used to provide more space for the driver when a car is in autonomous mode, although Auto Express understands that added safety is the primary reason BMW is developing the technology.
BMW has history when it comes to innovative steering wheels. It's Vision iNext concept, unveiled at the 2018 Los Angeles Motor Show, featured a squared-off steering wheel designed to allow drivers to easily switch between autonomous and active driving modes. BMW claimed that its unusual shape would make it easier for the driver to recognise the car's steering angle.
That steering wheel is expected to make it onto next year's iNext production car - which could wear an iX5 badge. BMW has already said that the iNEXT's steering wheel will be fitted with optical fibres to let the driver know when autonomous driving modes are available for use, and warn of situations where the driver is required to retake control of the vehicle.
However, the new patents reveal that BMW plans to take steering wheel technology a step further, and its invention has the backing of car safety researchers.
In 2017 researchers at Stanford University conducted tests using a test rig featuring a robotic steering wheel that could change shape. Their tests showed that drivers asked to take control of an autonomously-driven vehicle in an emergency situation reacted quicker to a steering wheel that mechanically changes its shape than a steering wheel that uses flashing LED lights to alert the driver.
The conclusion of the Stanford study was: "Drivers who experienced the robotic steering wheel performed significantly better than those who experienced the LED steering wheel. The results of this study suggest that alerts utilising mechanical movements are more effective than purely visual warnings."
The shape-shifting steering wheel is unlikely to make it onto 2021's iNext model, but could only be a few years away from production.
Do you like the idea of a car steering wheel that alters its shape? Let us know in the comments...