New Cadillac model blitz for the UK
The Cadillac ATS and CTS saloons will be joined by four new models in the UK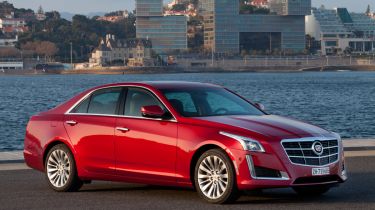 Cadillac will introduce a raft of new models in European markets over the next 18 months, including the UK. After several failed attempts to try and crack Europe, Cadillac is hopeful its latest product blitz will establish it as a genuine alternative to the established premium players.
Spearheading the production expansion will be the new third-generation CTS. Now on sale in Europe and in the UK, the executive saloon is only available with a 2.0-litre turbo petrol engine. Tony Roma, Chief Engineer of Performance Luxury Cars at Cadillac also revealed a hot V8-powered CTS-V will also arrive in British showrooms soon. The smaller BMW 3 Series-sized Cadillac ATS is also currently on sale.
Later this year, the ATS Coupe – a rival for the recently introduced BMW 4 Series – will also be launched, set to be followed by a stretched version of the Escalade SUV. Completing the six-car lineup will be Cadillac's electric hybrid coupe, the ELR, which will launch at the back end of 2015.
Cadillac's appeal in the UK will be limited by a lack of right-hand drive. Speaking to Tony Roma at the CTS launch, he revealed there has to be a viable business case before right-hand drive models can be considered.
"Ideally we'd also like to see a diesel engine. We're working on it but it's still several years off," said Roma. "For Europe it would need to be a 2.0-litre four-cylinder motor."
Currently, Cadillac only has one dealership located in Manchester. There is talk of expanding but as of yet there are no official plans.