'Land Rover will be in the hunt and hoping to steal the WCOTY crown'
Mike Rutherford talks over the World Car of the Year candidates, which includes his hot favourite...the Range Rover Velar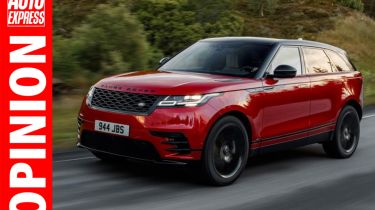 Bad news and good news. After Jaguar deservedly secured its inaugural World Car of the Year win earlier this year with the F-Pace, the marque is unlikely to be in a position to defend its title in 2018. Its duo of all-new Jags – the handsome and affordable E-Pace, plus the 100-per-cent electric, game-changing I-Pace – will have to wait until WCOTY 2019, by which time they'll be very much in the showrooms and on the street.
No matter. Sister company Land Rover will be in the hunt and hoping to steal the WCOTY crown for Midlands-based JLR, its hugely valued workers and Britain PLC in 2018. In its armoury will be the bulletproof Discovery and sublime Velar. Looking at the global competition this pair of SUVs will be up against, mainland Europe (Germany in particular) is, as ever, a clear threat.
• World car of the year 2018 contenders
Not nearly as threatening, though, is down-in-the-dumps North America, where once-great names such as GM, Ford and Chrysler (but not Jeep) now struggle to design and produce enough genuinely new and interesting products – never mind globally significant and desirable ones.
As for manically hectic Asia? True, it deserves 10 out of 10 for productivity, but China, Japan, South Korea, India and others in the region seem keener on annually churning out millions of largely underwhelming vehicles than they do in designing and crafting 'best in the world' motor cars like, er, Jaguar.
With all this in mind, the very British Range Rover Velar has to be one of the favourites to succeed the quintessentially English Jaguar F-Pace as WCOTY winner in 2018. 
If that World Car of the Year title is the big one, the World Urban Car of the Year contest will host the fiercest scrap ever. All-new versions of the Ford Fiesta, Kia Picanto, Nissan Micra, SEAT Ibiza, Suzuki Swift, VW Polo and other accessible, affordable and increasingly desirable city cars and superminis go head-to-head for the global 'urban king' crown.
These are among the best-value, most state-of-the-art cars around. Clued-up buyers who are smart with their hard-earned money go for inexpensive petrol-powered motors such as these. And rightly so. They, like the Discovery and Velar, are brilliant, widely available cars for a world whose consumers don't know how lucky they are to have them.
Which car do you think will win the World Car of the Year award? Let us know in the comments below...