"We're still waiting for a truly great small SUV"
Deputy editor John McIlroy looks at the mystery of small SUVs and reflects on the lack of daring and inventive features in their design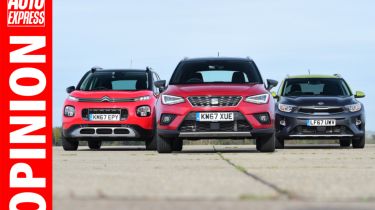 Barely a week goes by, it seems, without one of our reviewers reporting back from the latest launch of a small SUV.
I've been to three myself over the past month, picking apart the respective merits of the Citroen C3 Aircross, SEAT Arona and Hyundai Kona – and recently we put the first two of those up against the Kia Stonic on UK roads.
• SEAT Arona vs Citroen C3 Cactus vs Kia Stonic triple test
I'll leave you in suspense on the verdict, but suffice it to say that even the winner doesn't manage to bag a full haul of five stars – our ultimate seal of approval.
That's because the small SUV is a curious breed of vehicle whose appeal is still a mystery to many of us. You get a slightly elevated driving position, of course, although it's nowhere near the commanding view that you'd enjoy from a full-size SUV.
There are funky image and personalisation options on many of the new models, too – but then, these are on many superminis already anyway.
And in the vast majority of cases it's not as if you're really gaining a lot in practicality. The best you can hope for is a very slightly larger boot and a teeny bit more headroom than the car's supermini cousin. Which will, of course, be cheaper, because manufacturers know we're willing to pay more for the image of an SUV, no matter how small it is.
And yet we're told, by car maker after car maker, that buyers can't get enough of small SUVs, and that more are coming to showrooms near you over the next couple of years.
• Best crossovers and small SUVs on sale
We can but hope that they're a bit more daring and inventive than what we've seen so far. We're happy, of course, to recommend the best that's out there right now – but we can't help feeling that someone has yet to do a really proper job and define the small SUV as a genre.
Do you think there is a stand out small SUV? Let us know in the comments below.