Tax clampdown on diesel vans may damage UK economy
Research shows 96 per cent of commercial vehicles run on diesel, while most Brits say vans and trucks make their lives better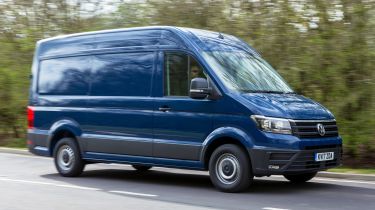 Diesel may have been subject to significant bad press of late, but a new study has laid bare the UK's dependence on diesel-powered commercial vehicles (CVs).
Research from the Society of Motor Manufacturers and Traders (SMMT) found 88 per cent of people think reduced services from CVs would negatively affect their quality of life. Over 96 per cent of CVs run on diesel.
• Diesel ban? We look at the future of the fuel
Bin lorries, bus services and online delivery trucks were among the vehicles cited as being core to the quality of modern life, while figures show the UK's 17,000 ambulances – the vast majority of which are diesel – transport around five million people to A&E each and every year.
Figures released by the SMMT also show 1.8 million sole traders depend on their vans for their livelihoods. Moreover, commercial vehicles transport three times more goods than water and railways combined, contributing £27.5 billion to the UK economy in the process.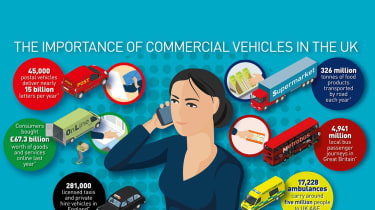 Of the 2,007 people responding to the survey, carried out by the SMMT and YouGov, 46 per cent said they had directly benefited from a commercial vehicle in the last 24 hours.
A further 67 per cent said a reduction in bin collections would make their lives worse, while 38 per cent said fewer buses would negatively impact them. 32 per cent said their lives would be worse with longer waiting times for online deliveries.
Sales of new diesel cars fell by 37.2 per cent in March, with consumer confidence in the fuel falling off the back of complicated new diesel tax rules being introduced. Jaguar Land Rover recently laid off 1,000 agency workers due to declining diesel sales, while Nissan announced it is to significantly reduce its UK workforce due to changing winds in its engine supply model.
Commenting on the research, Mike Hawes, the SMMT's chief executive said: "There are 5 million commercial vehicles on Britain's roads and they play a vital role in powering our essential services."
Hawes said commercial vehicles are the "backbone of our economy", and highlighted modern vans, trucks, buses and lorries are the cleanest they have ever been. He also called for central support for commercial vehicles through well-considered policies, saying: "Government must maintain the right economic conditions, and help promote fleet renewal through the right policies and incentives."
Should you buy a new diesel car? We've weighed up the pros and cons to making a diesel your next vehicle…