Nissan plans hundreds of job losses at Sunderland plant
Fall in diesel sales believed to be behind hundreds of job losses at Nissan's UK factory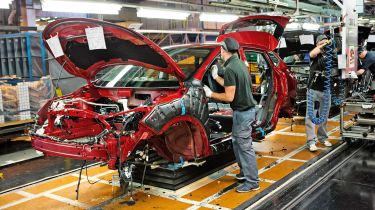 Hundreds of workers at Nissan's Sunderland plant are to lose their jobs, after company bosses said "operational changes" were causing it to enact a "short-term reduction in powertrain supply". 
Nissan employs around 7,000 workers at its Sunderland plant, where the Qashqai, Juke and X-Trail SUVs are built. The new electric Leaf is also being built at the factory.
A recent downturn in the sales of diesel cars, which fell in popularity by 37.2 per cent last month, is said to be behind the job losses. Around half a million cars are produced by Nissan at Sunderland each year, with an estimated 25 per cent being diesel.
A Nissan spokesman told the Financial Times: "As previously communicated, we are transitioning to a new range of powertrains over the next year. 
"As we make the operational changes required to support this, we will be managing a planned short-term reduction in powertrain supply and plant volumes at NMUK [Nissan Motor Manufacturing UK] in line with our 2018 business plan. We are now discussing these operational changes with our employees."
The spokesman categorically stated that the job losses were unconnected to the UK's forthcoming exit from the European Union, indicating that employee numbers should rise again in the future: "This is not related to Brexit. In time we expect volumes to increase as we prepare to launch the next generation Juke, Qashqai and X-Trail, all being built at NMUK."
Nissan's announcement follows similar news from Jaguar Land Rover, which recently confirmed 1,000 agency workers at its Solihull plant were to lose their jobs in light of: "continuing headwinds impacting the car industry".
What do you think of the news from Nissan Sunderland? Let us know in the comments...