'Chinese start-ups are forcing established car makers to change'
With Lynk & Co and Byton targeting Europe without showrooms, it's no wonder Vauxhall is cutting dealerships, writes John McIlroy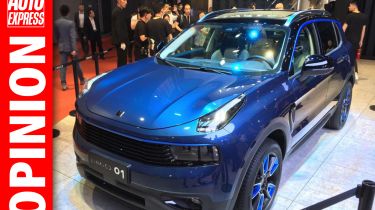 There was a time, not long ago, when Chinese motor shows were almost a laughing stock. The halls would be filled with a mixture of under-engineered vehicles from the local manufacturers and knock-offs trying desperately to look like premium products from Europe.
Not any more. This week's Beijing Motor Show feels as major as any of the other global showcases.
• Geely Concept Icon unveiled at Beijing Motor Show
It's the locals who are making the big strides, too, mixing China's huge muscle in the battery market with a lack of heritage and 'legacy' that gives them huge potential when it comes to building cars and selling them. After all, if you don't have thousands of dealer contracts worldwide, you can afford to take a radical approach on how you engage with customers – or even if you sell cars at all, instead of leasing them to users instead of owners.
The first test of this is likely to be Lynk & Co, which has already stated that it will come to Europe from next year, but without traditional showrooms. It won't be alone, though; Byton, which showed a fresh prototype of its SUV in Milan last week, has also stated that its customers will subscribe through 'brand stores' and online access.
Contrast this with the fortunes of Vauxhall, which announced last week that it will trim a chunk of its dealers over the next couple of years. There are other reasons why this fabled British brand needs to slim down its dealership portfolio, of course; it's operating under new owners who are targeting profit margins after years of the firm chasing huge volumes.
But even so, we think Vauxhall is unlikely to be the last established name to reboot the way it sells cars in the years ahead. And we wouldn't be at all surprised if some of the Chinese start-ups in the halls of Beijing are the ones forcing the change.
Could Chinese start-ups change the motoring industry, or will their influence be short-lived? Let us know what you think in the comments section…