'To free up our roads, we should drive less or drive smaller'
With 50 per cent more cars on our roads than in 1997, Mike Rutherford thinks we should all drive smaller models like the Audi A1…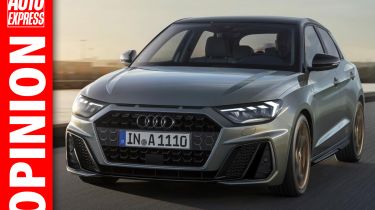 Cast your mind back six months to the first week of January. These were the desperately dark days when a down-in-the-dumps Society of Motor Manufacturers and Traders (SMMT) admitted that new car sales in 2017 were way lower than in 2016.
Many people in the automotive industry lost out, as did HM Treasury. Never forget that for every £25,000 new car not sold, the Government loses £5,000 in VAT.
• Best-selling cars in the UK 2018
But a year-on-year downturn in new car sales, coupled with huge quantities of old vehicles being scrapped, at least means fewer cars, vans and trucks on the road, and a bit more space, right? Er, wrong. There have never been more vehicles in front of and behind you.
Astonishingly, there are around 50 per cent more in use in Britain today than in 1997. According to just-published Department for Transport data, at the end of 2017/start of 2018, 37.7 million were on UK roads. The SMMT claims it's 39.7m. They're both wrong, because the true number is comfortably north of 40 million after factoring in often-ignored (and illegal) unregistered/unlicensed vehicles on the road, plus legal ones on foreign plates.
When I was a kid, road vehicles in Britain collectively travelled tens of billions of miles per annum. Now they annually do 300-400 billion miles on UK roads. The network feels slower and more cramped than ever because, er, it is. And it's inevitable that it'll become even more overcrowded as the current number of licence holders grows from 48m to more than 50m, in line with official forecasts that the UK population will hit 70 million by the 2020s.
Yet the length of the network seems almost static as far as I can tell. Honestly, although I see many road closures, plus new pedestrianisation schemes and cycling/bus/taxi lanes, I can't remember the last time I spotted a genuinely new highway for cars, vans and trucks. Know the feeling?
• Potholes cost drivers £1 million per month
No doubt about it: every year we have fewer miles of usable road per motorised vehicle. In view of the fact that the network will not be expanded as it should be, we have two options in order to free up much-needed space: drive less or drive smaller (four metres long or less) vehicles. I prefer option two. Audi has proven with its A1 and Q2 that small models can have a big-car feel, while retaining their premium credentials and credibility.
With this in mind we urgently need a Jaguar A-Pace, Range Rover Evoque Lite, Mk2 Aston Martin Cygnet... or even a Mcmini from McLaren, Britain's second fastest-growing brand after MG – which, incidentally, should do an all-new Metro that could and should be the cheapest car on the UK market.
Read: new car sales have risen for the second consecutive month in 2018…