'If you don't believe in the electric car yet, you soon will'
Electric cars are the future of motoring, and they'll soon be impossible for consumers to ignore, says Steve Fowler…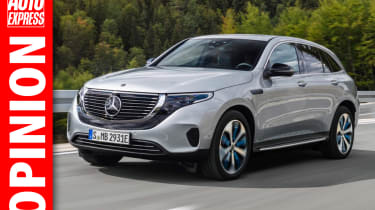 Mercedes is going at it with real gusto – EQ is set to become a Mercedes brand in the same way AMG and Maybach are. EQ stands for 'electric intelligence' (yes, that's what I thought, too). It also stands for a range of electrified models that'll line up against rivals from every other maker in the coming years.
In spite of all that, every time I sing the praises of electric cars, my inbox chimes with messages from people who say they'll never provide the fun we get from internal combustion-engined cars!
To those people I say simply: go and try one. We had a similar situation 20 years ago with diesel. Once we'd experienced it – and seen the benefits – we were hooked. That's the same with an EV; it's hard not to be impressed and excited once you've had a go.
Check out the new, all-electric Mercedes EQC, which is due in 2019…
Get the latest electric car news, reviews and analysis on DrivingElectric.com