'If you don't believe in the electric car yet, you soon will'
Electric cars are the future of motoring, and they'll soon be impossible for consumers to ignore, says Steve Fowler…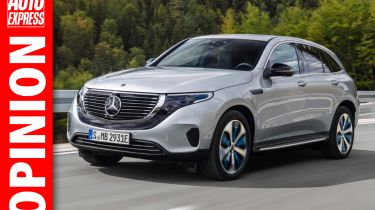 This is when the electric car starts to get really serious. This week Mercedes has revealed its first, bespoke, all-electric car to the world and later this month, Audi does the same. Rest assured, it's not stopping there.
It all comes hot on the heels of Jaguar getting its I-Pace to customers before its rivals – and winning our Car of the Year prize in the process – and Hyundai launching an affordable all-electric small SUV with a real-world range of 300 miles.
• Best electric cars on sale 2018
Of course, cars like the Nissan Leaf, Renault Zoe and Tesla Models S and X have been with us for a while, but it's going to take more mainstream and premium brands to come to the party to make wary buyers really sit up and take notice.
The biggest barrier to EV ownership remains range – unfairly so, these days. The perception of 'under 100 miles' will soon change as closer to 300 miles becomes the new norm, while interest will increase as more and more appealing (if not particular attractive) cars like the EQC are launched.
Mercedes is going at it with real gusto – EQ is set to become a Mercedes brand in the same way AMG and Maybach are. EQ stands for 'electric intelligence' (yes, that's what I thought, too). It also stands for a range of electrified models that'll line up against rivals from every other maker in the coming years.
In spite of all that, every time I sing the praises of electric cars, my inbox chimes with messages from people who say they'll never provide the fun we get from internal combustion-engined cars!
To those people I say simply: go and try one. We had a similar situation 20 years ago with diesel. Once we'd experienced it – and seen the benefits – we were hooked. That's the same with an EV; it's hard not to be impressed and excited once you've had a go.
Check out the new, all-electric Mercedes EQC, which is due in 2019…
Get the latest electric car news, reviews and analysis on DrivingElectric.com