'The Japanese have finally found their design mojo again'
The Tokyo Motor Show showcased how much Japanese car design has made a comeback, says editor-in-chief Steve Fowler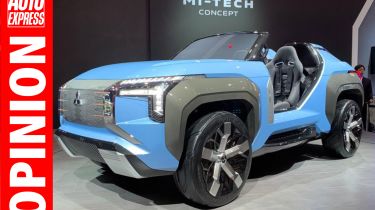 The Tokyo Motor Show has always been the time when the Japanese car makers come to town with some of their weirdest and wackiest concepts, most of which are destined never to see the light of day.
But this year's show was different, due to the fact that many of the designs we saw actually have production intent. Japanese car manufacturers, it seems, are showing more confidence in Japanese design.
• Concept cars: the greatest concept car designs of all time
So I tip my hat to Toyota, who seemed determined to announce itself in Tokyo as a mobility solution provider rather than a car company. But the cars it did show – and those in showrooms already – have an increasing sense of style that we wouldn't have expected just a few years ago. 
Then there's Mitsubishi, still slightly over-obsessed with chrome, but with what design chief Tsunehiro Kunimoto describes as "very aggressive design", highlighted by the Mi-Tech concept. It's one of the stars of the Tokyo show and previews a new ASX small SUV. Whether you like the bluff-fronted looks of the Mitsubishis we'll see in the future is up to you, but we can guarantee they'll look like nothing else.
Lexus' LF-30 concept won't make production, but it highlights a level of design making the brand ever-more attractive to buyers. And Nissan's Ariya EV is another great-looking car that'll be in showrooms in a couple of years.
Mazda had a stand full of some of the most beautiful cars you can get from any brand this side of Aston Martin. The clever MX-30 EV is another to add to the list.
And Suzuki showed its Waku SPO concept, with a look that one designer told me could make it onto production cars. Imagine a Suzuki Swift looking like that!
Sadly Honda didn't get the memo. The new Jazz does what a Jazz needs to do, but boy does it look dull – especially sat next to the fabulous Honda e. What a shame a little of that car didn't rub off on the new Jazz.
Do you agree with Steve? Let us know your thoughts in the comments below...