This week's issue of Auto Express
Pick up this week's issue to read our full F1 season preview, as well as all the news from the Geneva Motor Show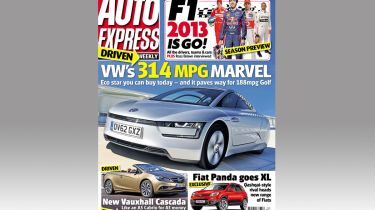 This week's issue – out on 13 March 2013 – features our bumper eight page F1 2013 season preview, with all the cars, teams and drivers as well as an exclusive interview with Mercedes team boss, Ross Brawn.
Elsewhere, we've got all the news in the wake of the Geneva Motor Show; including a first drive of the 313mpg VW XL1 and all the details on the upcoming McLaren P13.
There's also a round up of everything we missed at the show last week, plus opinion from industry experts on the all-new £1million Ferrari LaFerrari.
In drives, we've been behind the wheel of the sleek Vauxhall Cascada – a car designed to compete with the likes of the Audi A5 and BMW 3 Series – as well as an all-electric Land Rover Defender, nine-speed Range Rover Evoque and brand-new Toyota RAV4. Our road testers have also been busy, pitting the revised Toyota Verso against the superb Renault Grand Scenic and Mazda 5.
In addition to all this, there's all the usual product reviews, buyer's guides and long-term updates, as well as letters, sport and Watchdog.
Issue 1259 is available to buy now, priced at £2.45. Alternatively, you can claim six issues for £1 and have the magazine delivered straight to your door every week, download our new iPad edition, or simply talk to your local newsagents to order a copy for you at no extra cost.