Incredible Dubai police cars
The amazing Dubai police car fleet means there's absolutely no escape for the emirate's errant motorists
From its unique architecture to its amazing skyline and eyewatering prices, the United Arab Emirate of Dubai has always done things very differently.
Never afraid to flash its excess wealth, and famed worldwide for its conspicuous consumption, it's no surprise that the local constabulary has accumulated the most exotic stable of police cars in the world.
Lamborghini, Aston Martin, Ferrari and more... it's every petrolhead's wishlist of motoring exotica, but a daily drive from some for the lucky officers serving in the desert. We take a look at the cars that will be on your tail if you're foolish enough to consider speeding in Dubai, the land where the PCs most certainly aren't plodders...
• What is the world's fastest car?
BMW M6 Gran Coupe
Engine: 4.4 V8, 552bhp | Top speed: 155mph | 0-62mph: 4.1 secs | Price: £97,285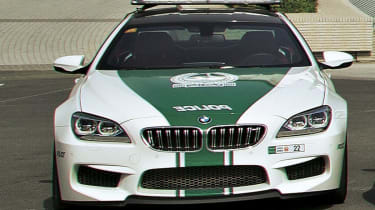 A relatively tame part of Dubai Police's fleet, but BMW's legendary 'M' badge signifies there's no shortage of power. With a 4.4-litre V8, the M6 Gran Coupe is propelled from 0-62mph in 4.1 seconds, on its way to a limited top speed of 155mph. At just under £100,000, this is one of the cheaper cars on the fleet, but rest assured those sumptuous leather seats will keep criminals comfortable.
Mercedes SLS AMG
Engine: 6.2 V8, 591bhp - Top speed: 199mph - 0-62mph: 3.7 secs - Price: £191,000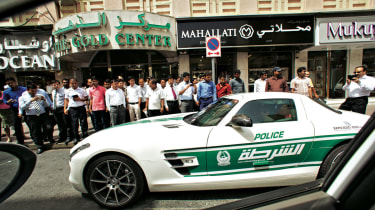 As supercars go, few would deny that the Mercedes SLS AMG is a work of art, with its generously proportioned front end sweeping back to a dramatic set of gullwing doors. The Mercedes produces almost 600bhp from a 6.2-litre V8, and is capable of nearly 200mph, doing 0-62mph in under four seconds. At £191,000, it's a snip next to some of the other cars here. Now where do the bad guys sit?
Lamborghini Aventador
Engine: 6.5 V12, 690bhp | Top speed: 217mph | 0-62mph: 2.9 secs | Price: £265,900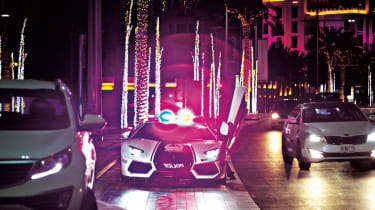 A product of Lamborghini's famous factory at Sant'Agata, the Aventador is striking in every way. Its rakish lines and aggressively flared arches and intakes give it a presence few cars can match. And with a massive 690bhp from the 6.5-litre V12 engine, this bull can charge to 217mph and from 0-62mph in a mightily impressive 2.9 seconds. But at £265,900, it's definitely no cheap thrill.
Aston Martin One-77
Engine: 7.3 V12, 750bhp | Top speed: 220mph | 0-62mph: 3.7 secs | Price: £1,150,000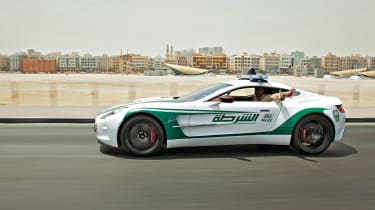 This is as special as they come from the legendary British maker. As the name suggests, the Aston Martin One-77 was a limited release of just 77 models worldwide. Beautifully hand-crafted materials and an obsessive attention to detail mark the car out. It's no slouch, either, with 750bhp from a V12 and a top speed of 220mph. The force's accountant may be concerned at the £1,150,000 price tag, though.
Ferrari FF
Engine: 6.2 V12, 651bhp -| Top speed: 208mph | 0-62mph: 3.7 secs | Price: £227,142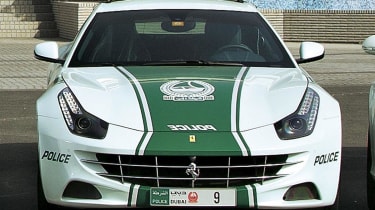 Practical and Ferrari are two words you rarely hear in the same sentence. The Ferrari FF is an exception, though, because it is a genuinely practical supercar with space for four occupants in a shooting brake bodystyle – the perfect choice for transporting criminals to the station quickly, thanks to its 651bhp V12 engine. At just under £250,000, it's another costly addition to the Dubai police fleet.
Bentley Continental GT
Engine: 6.0 W12, 567bhp | Top speed: 197mph | 0-62mph: 4.3 secs | Price: £139,755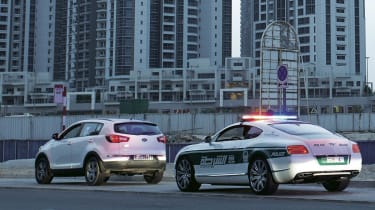 Another British car, the Bentley Continental GT is a fine choice due to its superb refinement and quality. It's hand-made at Bentley's famous Crewe factory, and every effort is made to produce the perfect car, tailored to buyers' every request. The 6.0-litre W12 engine catapults the car to just shy of 200mph, and dispatches the 0-62mph sprint in 4.3 seconds. Relatively cheap among its contemporaries at £139,755.
Ford Shelby Mustang Roush Edition
Engine: 5.0 V8, 575bhp | Top speed: 147mph | 0-62mph: 4.5 secs | Price: £65,640 (est)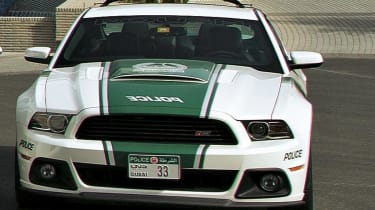 The Ford Mustang costs small change in relation to the other cars on the fleet, but doesn't disappoint. This 'pony car' is more of a cobra, something its Shelby badge backs up. Modifier Roush has added even more power to the Ford, which features a highly tuned 5.0-litre V8. This pushes out 575bhp and gets the car from 0-62mph quicker than the Bentley. It costs under a third of the price of its British rival, so what's not to like?
Whether it's for practical or publicity purposes, do you think it makes sense for the Dubai police force to run such an incredible fleet of supercars? What would the response of British tax payers be if a UK police force attempted the same thing? Join the debate in the comments section below...