New Jaguar XE: exclusive pictures and details
We reveal the secrets behind the British brand's stunning new 3 Series rival, the Jaguar XE
The Jaguar XE is one of the most most eagerly anticipated cars in recent years, as it's Jaguar's attempt to take the fight to the compact executive class dominating BMW 3 Series, Audi A4 and Mercedes C Class.
Our latest images show how the Jaguar XE will look when it hits the showrooms in early 2015, and we reveal the car's secrets below...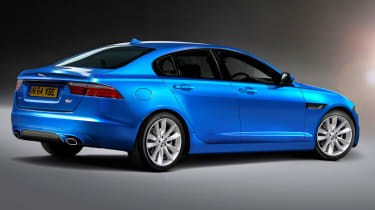 Why BMW should be worried about the new Jaguar XE...
Because Jaguar's design team has worked its magic again
Jaguar has reinvented itself with one of the boldest and most forward-thinking design departments in the industry. The gorgeous F-Type has received universal praise, and it's no coincidence that the XE will trade heavily on its association.
While Jaguar released an official shot of the XE's face at the Geneva Motor Show in March 2014 – previewing a rounded-off rectangular grille, aggressive front bumper and L-shaped LED signature – our exclusive images show how the rest of the body will look.
Side strakes lifted from the F-Type, twin exhausts and big alloys add a dash of sportiness, while the low roofline, rising waistline and short overhangs lend it a taut, muscular appearance.
It's by no means a radical departure, but Jaguar's research shows that's not what buyers in this market are looking for. "It's not just a shrunken XF; it's more than that," design director Ian Callum said. "You'll see some similarities. We'll be getting the face of the brand out there, but we haven't taken the opportunity to radicalise the car in any way so you'll see the family resemblance."
Because it's light and agile
"All-new" is a term heard all too often, but the XE really is new from the ground up. It's the first model to be based on Jaguar's flexible new iQ[Al] aluminium chassis, which will also underpin an SUV from 2016, in addition to the next-generation XF and coupé and estate versions of the XE.
Jaguar promises the XE to be lighter, stiffer and more agile than the 3 Series, with the chassis engineered for rear and four-wheel drive, which matches BMW's xDrive tech stride for stride.
While the new Mercedes C-Class might boast the ride comfort of an S-Class, the new Audi A4 (due in 2015) will offer superb interior quality and the Lexus IS has radical looks, only the XE has the credentials to challenge the 3 Series as the driver's choice in this class.
Because it can emit less than 100g/km of CO2
Attractive styling and sharp handling are nothing these days without efficient engines to back them up. That's why Jaguar has invested £355million in a new plant in Wolverhampton that's capable of producing one of the new Ingenium engines every 36 seconds.
The range consists of 2.0-litre four-cylinder turbo petrol and diesel engines, and the most efficient diesel promises CO2 emissions of less than 100g/km.
A hot 542bhp V8-powered XER-S version will be capable of over 186mph, and should make the new BMW M3 look slow, while Jaguar will also offer the 3.0-litre supercharged V6 from 
the F-Type.
Even more efficient hybrid options haven't been ruled out later in the XE's lifecycle, either.
Because it's the epitome of British cool
While Jaguar still has some way to go to raise brand awareness in big markets like North America, it has a desirable heritage and a cool image in Europe.
German makers have become a byword for quality, reliability and efficiency, but these days BMWs, Mercedes and Audis are everywhere, so wouldn't you rather own a Jaguar?
The Ford Mondeo-based X-Type that preceded the XE tried and failed to trade off this brand kudos, but the new car has the depth of engineering and design to make it stick.
Because it's loaded with new technology
It might be one of the smallest Jaguars ever, but the XE should also be the most technologically advanced.
Sophisticated double-wishbone aluminium suspension with adaptive dampers will take care of the ride and handling balance, while electromechanical steering will save fuel and offer variable ratio options.
The big news, though, is that Jaguar Land Rover will replace its ageing infotainment system – which trails rivals in terms of functionality.
The full-length touchscreen centre console seen in the C-X17 concept is still a generation away, but expect an easier-to-use set-up with new levels of online connectivity.
Exclusive virtual 'first drive' in the new Jaguar XE…
Ken Gibson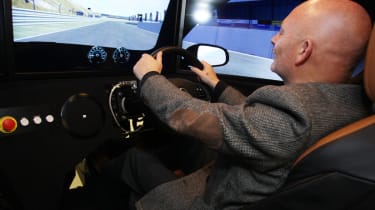 As we've seen, the new XE is the most important car in Jaguar's long history – it should more than double the company's sales when it goes on sale early next year.
Jaguar has only released one official picture of the car undisguised, with a camouflaged model also whetting our appetite. But while we're several months away from driving the XE, we got an exclusive opportunity to climb behind the wheel.
Our 'drive' was in a simulator at the brand's Virtual Reality Suite, where computer versions of all future Jaguars are put through their paces. It's a test rig based on a hexapod with six computer-controlled actuators, and it's like sitting in a giant computer games console with three massive screens in front of you.
But this is big business virtual reality that costs over £500k and is key to every new Jaguar's development. It's the starting point for engineers, as virtual expert Brian Waterfield explains: "The object is to aid areas of the computer engineering process before we've spent any money or cut any metal on the real car.
"We use the rig to analyse data and get the right ingredients for key Jaguar DNA like steering and handling feel that are vital to our customers."
The Jaguar XE was recently spied testing at the Nurburgring, proving this car is being developed to set the handling benchmark in this class. And expect Jaguar to push its sporting DNA with high-performance S and RS versions, plus in the long term an estate and other derivatives to maximise sales.
Sitting in the driving seat feels like being in the real thing, but testing the car's responses on the simulator around a circuit was a weird feeling for someone who's never been keen on computers.