"Eye-watering R&D spending really can pay off"
Mike Rutherford's been looking into manufacturer's research budgets... and it's clear to him who's spending the money well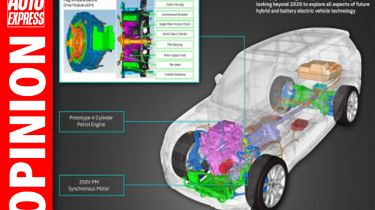 How much time, effort and cash do publicly-owned car and component makers invest in research and development that should lead to customers getting better, safer, class-leading, cutting-edge vehicles?
The short answer is that, in 2015, around £78 billion was spent in this area. At least, that's the figure from financial expert PWC.
Volkswagen invested the most in R&D last year, at £10.9 billion. That's commitment to the cause. And it's also more than the combined figure for GM and Ford. Toyota was second to VW, spending an impressive £6.6 billion, with Mercedes (£5.5 billion) GM (£5.3 billion) and Ford (£5 billion) completing the top five. Honda and BMW are right up there, too (£4 billion apiece), as is Nissan (£3.3 billion).
• Volkswagen Golf Mk8 to be lighter and greener
Denso (£2.6 billion) and Fiat/Chrysler (£2.4 billion) creep into the top 10, and this is pleasantly surprising. The former is a mere component manufacturer, albeit one owned by Toyota Industries. And frankly, I didn't believe that the latter - the occasionally volatile Fiat/Chrysler/Jeep clan - was rich enough to invest £2.4 billion in R&D last year.
Outside that top 10, SAIC is one to watch as it's spending substantially more on research and development than many of its better-known car making rivals around the world. The likes of Hyundai and Kia should surely be thrashing the Chinese firm in this department. Evidently, they're not.
Tyre and parts companies such as Continental and Aisin Seiki (daughter company of Toyota) also put some big, household name car makers to shame when it came to R&D expenditure last year.
But does eye-watering spending in this area really pay off? Many of the fine products from the VW Group and Toyota stables indicate that it does. These are the two biggest spenders of 2015 and previous years, and the painful (for their rivals) truth is that the German and Japanese giants are responsible for several of the finest vehicles of the modern motoring era. The up! and Golf (petrol versions only!) A4 and R8, Superb, Leon, Mirai and latest ugly but brilliant Prius perfectly prove the point.
It's only when you drive them all, in various guises, that they reveal themselves for what they are: some of the greatest cars on sale today. And they're not unreasonably priced... despite the fact that their creators spent untold billions researching and developing them. Just be grateful - and then some - that they did.
Do you think these companies R&D budgets are well spent? Let us know in the comments below...