'Audi hails the World Car of the Year as "the most significant" global prize out there"'
Plenty of car makers are honoured to be on the shortlist and rightly so, says Mike Rutherford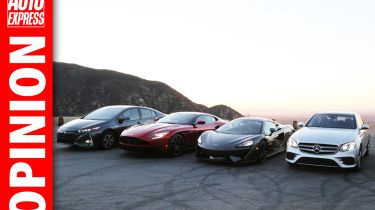 I can't name the bloke concerned, or reveal the precise location of his high security office suite in North America. But I can tell you he's a trusted senior employee of world renowned accountancy firm, KPMG.
This man is doing serious number crunching at the minute. Within a week or so, he'll be carefully placing the names of six cars into six envelopes that will be tightly sealed ahead of a security van ride to Manhattan. Next they'll be opened on stage at the 2017 World Car Awards (WCA) prizegiving ceremony which opens the New York International Auto Show on 12 April. As WCA is independently rated as the number one automotive awards programme on the planet, this is a big deal. The biggest.
After the Oscars fiasco (involving a different accountancy firm, PwC), KPMG is keen to avoid a similar envelope-opening debacle at the World Car bash in NYC. Me too, not least because I'll be nervously tearing open one of those envelopes on stage, prior to announcing whether the Audi R8 Spyder, McLaren 570S or Porsche Boxster/Cayman wins the 2017 World Performance Car trophy. Modest Porsche insists it's just grateful its humble entry-level models are being "recognised" in the same supercar league as the considerably more expensive R8 and 570S.
Interestingly, recognition is also cited by Mercedes UK as being almost as important as the Luxury Car and Design gongs it may win in NYC. Meanwhile, Volvo is "honoured" to be another Luxury Car contender, while Urban Car finalists Suzuki and Citroen are, respectively, "chuffed" and "endorsed" by the decision to name the Ignis and C3 (plus BMW's i3 94 Ah) as the best all-new sub-4 metre cars on the planet. Which they are.
But it's the big one – the overall World Car of the Year title – that Audi (with the Q5), Jaguar (F-Pace) and Volkswagen (Tiguan) are praying for. Sheepish VW seems gobsmacked/lost for words after making it into the top three during its troubled period. Jag feels "vindicated". And an ecstatic Audi hails WCOTY as "the most significant" global prize out there.
It's right Germany and Britain will slug it out for the prize. After all, the Germans, Brits (and Japanese) currently lead the world by designing and building the finest and most desirable petrol and diesel cars, don't they? And isn't it equally true the French, Swedes, Koreans, Americans and others can only try – and usually fail – to catch the best of the best?
Which car do you think should win the World Car of the Year award? Check out the shortlist here...