Porsche and Audi to join forces over new electric car platform
Two VW group firms to collaborate over electrification and autonomous tech up to 2025, with new large EVs in the pipeline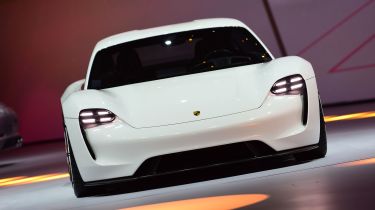 Porsche and Audi are to work together on a new, shared vehicle platform that will allow both brands to offer increased electrification, digitalisation and autonomous tech, company bosses have announced.
"The best brains of both companies will together set the technical course for the future", said Audi boss Rupert Stadler. He added: "We are united by many shared values, above all, by our pursuit of the best solutions and the best offerings for our customers."
• Best electric cars on sale 2017
According to Porsche chairman Oliver Blume, the two brands will utilise each other's expertise and "co-operate wherever it makes sense". However, the Porsche boss also sought to play down how the technical partnership will affect the character of the marque's cars. "A Porsche is always a Porsche, and that will remain so in the future," he stated.
Collaboration between the two marques isn't new – the two are both Volkswagen Group brands, and Porsche's Macan uses many components from Audi's Q5 SUV. The announcement re-affirms co-operation, however, specifically in terms of electric vehicles that will sit above the VW Group's MEB electric platform architecture.
Porsche plans to launch the Mission E in 2020, while a production-ready Audi electric SUV will arrive in 2018. Both will offer autonomous driving to various degrees.
• Autonomous cars: everything you need to know
The joint announcement suggests that Porsche and Audi are positioned to co-operate over electrification and autonomy all the way up until 2025. Audi has already been given the VW Group's leadership in developing autonomous tech; having high-end collaboration with Porsche could allow it to accelerate the introduction of expensive systems that would otherwise be too pricey to introduce on VWs, SEATs and Skodas.
Does Porsche and Audi working closely sound like a good plan? Let us know your thoughts in the comments.