"London's Mayor has been handed the irrefutable truth that some diesels are squeaky clean"
Mike Rutherford argues that clean diesel cars should be recognised as such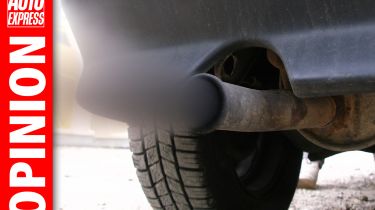 Finally – some solid, independent and practical specialist evidence for individuals and companies wondering whether to buy or lease diesel cars.
In short, the unbiased testimony goes like this: in real-world conditions, some mid-sized to large diesel cars are, all things considered (including the hated NOx emissions), still among the cleanest, most fuel-efficient and least environmentally-hostile vehicles around. They're at least as green as equivalent petrol models.
• The best low emissions green cars
Therefore drivers can, with a clear conscience, purchase and use them – even a few 'monsters' that have 3.0 or 4.0-litre engines plus four-wheel drive. Who says? Nick Molden, CEO of Emissions Analytics.
This is a firm that monitors and analyses real-world emissions from vehicles. It's not working on behalf of the ecomental industry, the State, Society of Motor Manufacturers and Traders or other elements of the car establishment which – led by a "cheating" Volkswagen – has sometimes issued bum steers on the efficiency and cleanliness of diesels.
Molden has no axe to grind. He occupies small but vital neutral ground on the fringe of the industry and admits he'd "absolutely" buy a diesel car. This unapologetic endorsement is hugely significant – not least because he commands the attention of politicians, civil servants and others who have occasionally seemed hell bent on restricting, fining or banning such humble family vehicles.
London Mayor Sadiq Khan recently alleged the capital's air is "lethal". Thankfully, Molden is now advising and educating Khan on the truth about such vehicles. The Mayor has been handed the irrefutable proof that some of them are so damn squeaky clean, green and lean that they've earned top scores in Molden's genuinely unbiased EQUA Index.
These A-rated diesels are 1.6-litre versions of the VW Passat (2016) and Touran ('16); the 2.0 Audi A5 ('14) and Q2 ('16); BMW 3 Series ('13); Mercedes E-Class ('16); MINI ('15); SEAT Alhambra ('15); Skoda Superb ('16); plus VW Golf SV ('15); Scirocco ('15); and Tiguan AWD ('16); the 3.0 BMW 5 Series ('16); and the 4.0 Porsche Panamera AWD ('16).
How can the Mayor and other politicians justify restricting such fine diesel cars? They're independently rated as being among the most efficient and environmentally sound vehicles on our roads. Period.
What do you think of Mike's view? Let us know in the comments below...