UK car industry production down for third month in a row
Output remains strong but the number of cars rolling off UK production lines has fallen and SMMT blames Brexit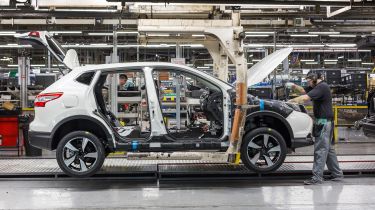 The number of cars built in the UK fell 14% in June to 137,000 units, the third consecutive month of declining production.
Output in the first half of the year decreased 3% to 867,000 but is still at its second highest point for 12 years, according to data from the Society of Motor Manufacturers and Traders (SMMT).
• Facelifted Nissan Qashqai production officially starts in Sunderland
79% of British-built cars were exported to overseas buyers between January and June, the highest for five years, while demand from the UK market fell 10% to 183,000 units.
Mike Hawes, chief executive of SMMT, said the UK's upcoming exit from the European Union was hitting investor confidence, adding: "Brexit uncertainty is not helping investment and growth is stalling. The Government has been in 'listening' mode but now it must put on the table the concrete plans that will assure the future competitiveness of the sector."
An independent forecast for SMMT suggests production will increase in the second half of the year thanks to the release of new models including the Range Rover Velar, Jaguar XF Sportbrake and facelifted Nissan Qashqai.
The SMMT has also suggested that a bad Brexit deal could reduce the choice available to UK car buyers as manufacturers decide not to sell certain models in this country.
Do you agree that Brexit uncertainty is affecting the motor industry? Tell us your thoughts in the comments...