How to save money on your car insurance
Insurance is one of those motoring costs that you can't avoid, but whether you're taking out a new policy or renewing an existing one, there are ways you can save money
Car insurance is a complicated business, with insurance companies taking a wide variety of factors into account to calculate premiums that could well come to hundreds or even thousands of pounds a year.
In some ways the cost of car insurance is hard to get around – you'll have to pay more to insure your car if you're a young or inexperienced driver. The same is true if you've been in an accident or if you have points on your licence or driving convictions. If your car is fast, expensive or both you're also likely to pay higher insurance premiums than if it was a cheaper, less powerful model.  
There are, however, things you can change to save money on car insurance, whether you're taking out or renewing a car insurance policy. From carefully considering your choice of car to thinking about how you use it and the kind of insurance policy to take out.
Taking advantage of a few of these tips can leave you pleasantly surprised when the car insurance quotes roll in. Below, we lay out some top tips for saving money on your car insurance. 
Keep an eye on trim levels and options
A car's insurance group rating is a big factor in determining the price you pay to insure it and to set a car's insurance group the costs of 23 different parts that are commonly damaged in the most frequent accident types are considered - items such as rear bumpers, headlamps and exterior panels.
Given that headlights are included in that list, it stands to reason that choosing more expensive LED lamps might not be the best option for drivers whose premiums are already on the high side.
Higher trim levels with more equipment and styling accessories add to the cost of a car, so have a direct bearing on any potential 'total loss' payout an insurer will make. Take a look at the effect trim levels have on your insurance quotes before you head to the dealership and choose a new car.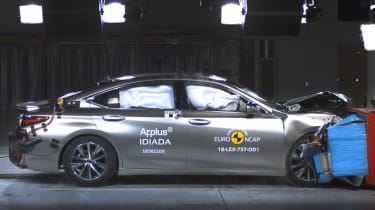 Read the NCAP crash-test results
Insurers take crash performance into consideration when setting premiums, so read a few NCAP reports to get the inside view on how any potential purchase performs in a collision. Insurers may look at how much whiplash protection a car offers, for example, because whiplash claims currently run to more than £1billion each year.
Choose a car with autonomous emergency braking
Having autonomous emergency braking (AEB) fitted as standard will see a car drop down five insurance groups on average, according to experts at Thatcham. AEB could possibly, therefore, reduce the cost of cover – although this needs to be balanced against potentially more expensive repair bills due to damaged sensors.
Put your other half on your policy
John Blevins – who is a pricing expert with analytics specialist Consumer Intelligence, which benchmarks the insurance market – advises that drivers should consider putting their spouse or partner on the same policy as them, even if they might not otherwise have done so.
"The pair will be sharing the driving," Blevins explains. "And statistically, couples who share both a car and the driving are less likely to be involved in an accident." Beware, though; Blevins cautions against this particular tactic if your partner has existing motoring convictions or is a significantly younger driver.
Never accept the renewal quote
Whether searching for a new policy or renewing an existing one, the usual  piece of advice is to always shop around. If you receive a renewal letter from your current insurer, chances are the automatic renewal quote will be more than you could currently be paying. In many cases, you can get a discount simply by ringing up and asking for a better offer.
Shop around
You may be able to get an even better discount if you shop around a wider selection of insurers – it's here that comparison sites come in handy. So-called loyalty pricing – where new customers are offered more attractive deals than existing customers – has now been banned, but if you do manage to find a cheaper quote from your own provider than the one they've offered you, make a note of the reference number and give it to them over the phone so they can try to price match.
Partnership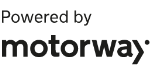 Need to sell your car?
Find your best offer from over 5,000+ dealers. It's that easy.
Of course, you may also be able to find cheaper quotes from many other insurers. If you don't want to haggle with your existing provider in an effort to knock your renewal price down, it's not a complicated business to switch to a new provider.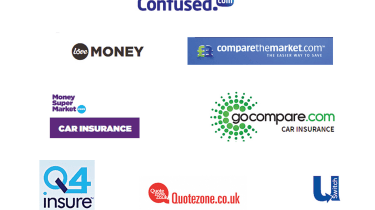 Use multiple price-comparison sites
It's tempting to think that if you're using a car insurance price comparison site, you're getting an overview of the market but that's not always the case. If using a price-comparison website, use more than one because differences in premiums can be seen across these platforms. Also remember that some insurers deliberately exclude themselves from comparison sites. It pays to do that bit of extra research to find a good deal. 
Park safe and pay less
When you first take out a car insurance policy, you'll be asked for all sorts of personal information that may affect your premium. It's imperative that you're completely honest when you're answering these questions – if not, you risk invalidating your policy.
However, there are things you can do to cut your costs here and there. For example, if you live in a house with a garage, parking your car in there overnight instead of on your driveway – and telling your insurer you do so – should help, because this will mean your car is at less risk of theft.
Don't overstate how much you drive
Insurers will ask how many miles you cover in a year. Again, it's important to give an accurate estimate of this, so don't play it safe by saying you cover 20,000 miles when in reality you only cover 10,000. Doing this is likely to increase your premium.
You can also choose whether to take a policy out for social-only driving, social including commuting to or from a single place of work, or business use. If you can avoid having to insure your car for commuting or business purposes, this is another good way to save money. If, for example, you used to commute via car, but now work from home, it may be worth changing your policy to social only.
Your job makes a difference to insurance costs
Some occupations are considered a higher risk by insurers than others. While changing job to get cheaper car insurance is probably not a sensible idea, there may be more than one job title listed that accurately describes what you do, try each of them and see what difference it makes to the quote.
Change how and what you pay for insurance
It's typically cheaper to pay for car insurance annually rather than monthly. Therefore, if you're able to hand over your entire premium at the start of the policy, you should.
There's also the matter of your voluntary excess – the amount you agree to pay towards the cost of an insurance claim. You can adjust the figure as you see fit, and choosing a higher voluntary excess will result in a lower premium; just don't select an excess that's so high you can't afford to pay it in the event of an accident.
Policy extras cost extra
Think carefully about which extras you really need on your insurance policy. Motor legal protection and a protected no claims bonus may well be worth having, but see what effect they're having on your premium before committing. Likewise, untick the breakdown cover box if you already have a policy, or if you have cover as part of your bank account or credit card agreement.
Black box telematics car insurance 
Another way to save money on your car insurance – particularly if you're a new driver – is to go for a telematics policy. This comes with a 'black box' that plugs into your car's on-board diagnostics port to monitor the way you drive. Most of these can see how fast or how gently you're driving, what kind of roads you're using and what times of day you're travelling.
Siblings Sophie and Tom Griffin have insured their shared car with Tesco's black box policy and it's saved them both money at every renewal. "Every year, I check out what other insurance policies cost without a black box, but it's always cheaper to renew the telematics policy," Sophie explained.
As well as making a saving of around £200 per year each with the black box, Sophie and Tom both point out that it never penalises them for the way they drive. Instead, it only ever highlights when they're driving well and rewards them for doing so.
The brother and sister also feel that the black box adds a layer of security, because it would be easier to find the car if it were to be stolen with the box plugged in.
Car insurance checklist
Finally, here are our top tips for saving money on you car insurance... 
Shop around: Don't accept your insurer's auto-renew price. Use comparison sites and get on the phone to haggle.
Secure parking: If you have the option to park in a garage or secure car park, do so, because it could save you money.
The right choice: Options such as breakdown cover and a protected no claims bonus can be costly. Consider carefully.
Count the cost: Think about what kind of cover you need. Third party may be cheaper than fully comp, but often isn't.
Go the distance: Allow yourself the mileage you need, but no more. Overestimating will increase your premium.
Box clever: Consider a black box telematics policy, especially if you're a young or inexperienced driver.
What are your top tips for saving on car insurance? Tell us in the comments section below...