How to cut your fuel costs: fuel cards, cheaper fuel and eco-driving
Fuel prices are the bane of the motorist's life, but you can cut your fuel costs with some simple steps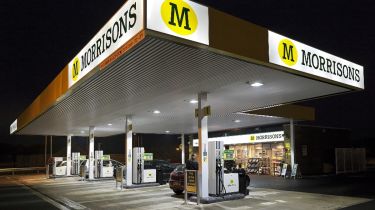 The small everyday outlays involved in being a motorist - like paying for fuel - can soon add up. However, because you're forking out for these so frequently, with a few simple changes you can reduce how much you're paying. Luke Bosdet of the AA explains: "There are two ways consumers can reduce their fuel bills: the first is to buy cheaper fuel and the second is to use less of it." 
Business owners can request a fuel card, such as Allstar, that works in a similar way to a credit card. These cards work across the country and offer substantial savings by charging a flat rate rather than the fluctuating prices at the pump. Unfortunately – and perhaps unfairly – fuel cards are reserved for business use, so individual drivers are forced to pay the advertised fuel price. But there are other ways to save. 
• Most economical cars on sale now
Phone apps can be a great way to make sure you're getting the best deal on fuel. While regional differences mean people pay more based on location, apps like Petrol Prices Pro or WhatGas show the cheapest fuel near you. Bosdet says: "If you have time to use fuel price apps, they'll save you money."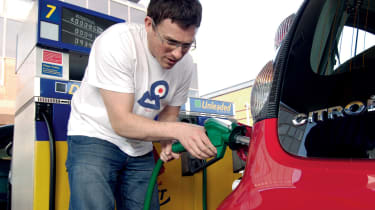 Once at the pump, use fuel loyalty and cashback cards to get the most from each fill-up. Supermarket forecourts such as Asda, Sainsbury's and Morrisons all have loyalty schemes that transfer the benefits from your daily shopping to the petrol pumps. For example, a Nectar card – valid at Sainsbury's and BP garages – will give you a point (worth half a penny) per litre. It doesn't sound much, but it'll save you around £5 for every 10,000 miles on average. For high-mileage drivers, those savings add up.
We'd also recommend purchasing petrol or diesel with a cashback credit card like Santander's 123 account. This offers three per cent cashback for each fill-up. On similar mileage, you could save up to £35 per year.
Saving at the pumps isn't the only way to reduce your spending, according to Bosdet. "All consumers can cut costs while on the road with just a few minor changes to their driving style," he adds. "Not accelerating and decelerating aggressively, and leaving a gap to the car in front to help anticipate what's happening ahead, are easy ways to cut fuel use."
• Best electric cars on sale now
Employing these driving tactics can save you up to 10 per cent on fuel costs, which can add up to more than £100 a year. "This style of driving will keep fuel costs down and reduce tyre and brake wear," says Bosdet.
And tyres can be a big expense. While avoiding harsh wear can save you buying a new set, keeping them properly inflated will help, too. One in five UK motorists doesn't do this, but it'll save you a lot of money by reducing rolling resistance, which helps to reduce the amount of fuel you use.
How much can you save on Fuel?
 

Auto Express tips

 

Savings

Cashback and loyalty schemes
£40
Eco-driving
£140
Total annual savings
£180
What are your top tips for saving money on fuel? Let us know in the comments section below...